VietNamNet Bridge – The Ministry of Education and Training (MOET) has released a document stipulating that pre-school education establishments are not allowed to teach foreign languages to the children. This has raised controversy.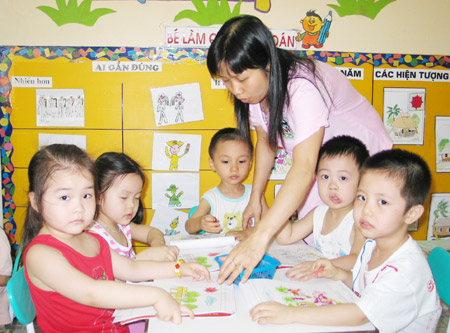 Deputy Director of the MOET's Pre-school Education Department Phan Thi Lan Anh has affirmed that it is necessary to prohibit kindergartens from teaching foreign languages to children and advertising the foreign language learning curriculums which have not been approved by MOET.
Meanwhile, a lot of parents, especially the ones in urban areas, still believe that their children should start learning foreign languages as soon as possible.
Ha, a university lecturer, brings her 4-year-old child to an English class every day. Citing the scientific articles, Ha affirmed that children can learn foreign languages better than adults. Therefore, she believes that it would be better to send children to foreign language classes when they get 4-7 years old.
Ha denied the fact that her child may get tired because of the English lessons, saying that children can acquire knowledge thanks to their ability of imitating adults. She also said children would not meet difficulties in identifying letters as people think.
Ha believes that she made a right decision when bringing her child to foreign language class soon. The girl is always cheerful and communicative with other people.
Meanwhile, other parents do not think this way. Lan, an office worker, said her 5-year-old son cannot remember new words, though the boy goes to English class every week.
English has been taught at his nursery school in Ba Dinh district in Hanoi as an extracurricular subject. According to Lan, she has to pay VND100,000 a month for the son's four English lessons, but the lessons seem to be useless.
Lan Anh from MOET agreed that the children at the pre-school age can imitate adults well, which could be an advantage for them to learn foreign languages.
However, she said the current conditions are not good enough to organize the English teaching program in a large scale. Vietnam has not got ready enough in the teaching staff, material facilities and curriculums to allow pre-school children to approach foreign languages.
Lan Anh went on to say that MOET would only allow to teach English at pre-school education establishments after it carries out thorough research works about the teaching and sees that the conditions are good enough.
However, many educators and parents believe that the opportunities for their children to learn foreign languages would be missed if they continue "waiting for the conditions to get ready enough."
MOET has not released any concrete decisions about the issue, but foreign languages still have been taught at the establishments on the voluntary basis. Those parents, who want their children to learn English, have to register for English classes and pay fees, because the State does not prop up the extra English lessons.
Ngo Hong Diep, an English expert who works for a foreign language center in Hanoi, noted that it is necessary to apply suitable teaching methods to the children or different ages. The teaching method to be applied to pre-school children must be different from that applied to primary school students, who can read and write.
Van Chung