VietNamNet Bridge – Do Hong Son, the expelled student who sent an open handwritten letter to President Truong Tan Sang calling for the President's help, has returned to school.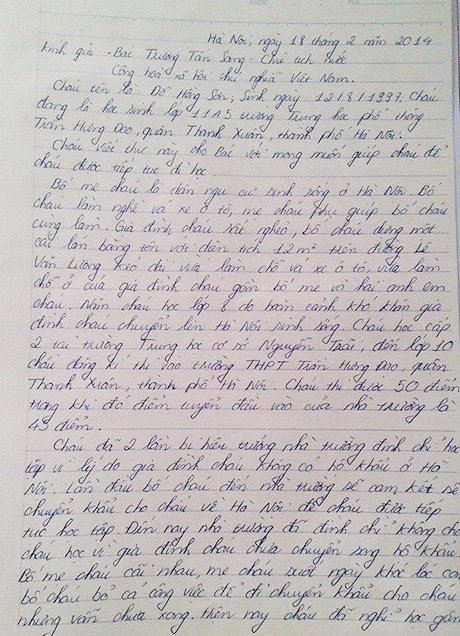 Son's handwritten letter to President Truong Tan Sang.
Son has successfully enrolled in Phan Boi Chau people-founded High School in Hanoi with the help of the Hanoi Education and Training Department.
Deputy Director of the department--Nguyen Hiep Thong, on February 20, told the local press that Son would return to school on February 21. However, he cannot go back to the Phan Boi Chau state owned high school where he studied, but to a people founded school.
Thong emphasized that all Vietnamese children have the right to go to school and that it is the local education departments' responsibility to ensure that the right is implemented.
However, he said that all Vietnamese citizens have to respect the laws. In case of Son, he cannot enroll in the Tran Hung Dao state owned High School, because Son does not have the Hanoi permanent residence book.
Under the current regulations, only the Hanoi's dwellers can go to state owned schools.
However, this does not mean that the schools' doors are all close to Son. "Son can enroll in one of the operational 100 people founded schools in Hanoi and continuing education centers," Thong said.
Son's parents have told the press that they are happy that their son can go back to school.
They said they would make every effort to fund the son's study at the people founded school (people founded schools require higher tuitions than state owned schools which receive the support from the state).
"A lot of donors have called us and suggested financial support, but we have refused them," said Son's father. "We are both strong and we can work to bring up our son."
Going to a people founded school is the foreseeable ending of the story. The Hanoi Education and Training Department cannot break the laws by arranging a seat for Son at a state owned school.
However, some people still think that there is no rule without an exception, and that Son, a student from a poor family, should have been given support to continue his study. If he has to go to a people founded school, the high tuitions would burden him and his parents.
Meanwhile, others believe that Son should not have expected too much from the society's help. He is not the only poor student who wishes to go to school. What will happen if all the poor students flock Hanoi and enroll in state owned schools?
A reader emailed to VnExpress editorial board expressing his viewpoint that Son and his parents have nobody to blame but themselves. They should have respected the laws and applied for a people founded school before instead of deliberately going to a state owned school.
Son also made a wrong move when writing letter to the President. He might think that the President would help him dodge the law? Citizens' proposals or complaints should be addressed to the right management agencies, while people should not try to send letters to the President any time they need help or disagree with the state agencies.
Thanh Mai