VietNamNet Bridge – If preschool teachers have no sense of morality and lack pedagogical skills, they would make mistakes sooner or later.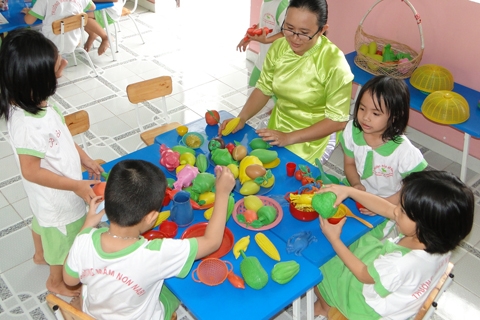 The two babysitters Dong Phuong and Thien Ly, who were found as abusing children, have to pay a heavy penalty for their mistakes with three-years of imprisonment.
However, it is quite a surprise that while the babysitters arouse the public's indignation, they also raise the compassion among a lot of parents.
A parent said she well understands the hard pressure put on nursery school teachers every day.
"A teacher has to take care for tens of children at the same time. If I were her, I would lose my temper, sooner or later," she said.
Nguyen Thi Van, a teacher from Hoa Mi School in Thu Duc district in HCM City, confirmed that parents and school's leaders always set high requirements on teachers and babysitters.
"Parents want to see their children gain weight. Some parents came to see me and asked what I fed their children and why the kids did not put on weight," Van said.
"Most children suffer from the anorexia and we have to force them to eat. If we don't, the children would not put on weight, and their parents would not leave their children with us," Van said.
A parent commented that the two babysitters Dong Phuong and Thien Ly proved to be very "creative" when holding the children's noses and slapping their faces to frighten them and force them to eat.
Dr. Nguyen Cong Khanh from the Hanoi University of Education noted that once teachers and babysitters do not go through any training courses, they would make mistakes.
The teachers think that threats, punishment and violence are the best ways to force children to do what they want.
"When children cry, it would create a feeling of inconvenience and anger which is uncontrollable for the teachers who are not well trained," Khanh explained.
"That is why the child abusing babysitters are mostly the ones who don't receive training and they simply take care for children with their experiences," Khanh said.
"They just look after the children, while they cannot bring up and educate the children," Khanh added.
Le Nguyet Ha, the owner of the Su Su household run class in Thu Duc district, said teachers have to undertake different kinds of jobs, from washing to cleaning floors, feeding children and washing dishes. Meanwhile, their incomes are so modest that they cannot feed themselves, let alone their families.
Nguyen Thi Minh Nguyet, Deputy Head of the Education Sub-department in district 3, admitted that teachers have to undertake too many jobs, from taking care for children, to feeding them and educating them.
"This makes the teachers prone to anger and makes their works more stressful," Nguyet said.
Nguyet also thinks that the pay for nursery school teachers is unreasonably low. A nursery school teacher can get VND2 million a month and VND300,000 more in allowance on average. They have to have training certificates, pedagogical skills and meet a lot of other requirements.
Meanwhile, a housemaid can receive VND3.5 million a month, while the job is less demanding.
Van Chung – Kieu Oanh