VietNamNet Bridge - Prime Minister Nguyen Tan Dung has assigned the Ministry of Education and Training and research institutions to add the contents on Vietnam's sovereignty over the Hoang Sa (Paracel) and Truong Sa (Spratly) Islands into in textbooks at all levels of education.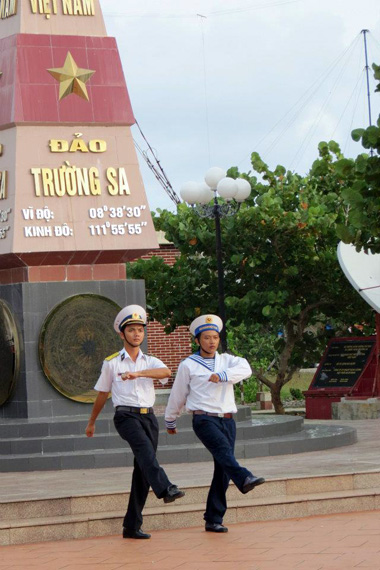 Vietnamese soldiers on Truong Sa Island. Photo VNE
The Government Office has announced the conclusion of Prime Minister Dung after his meeting with the Vietnam Historical Sciences. The PM highly praised the role in the society in dissemination of historical knowledge. He also assigned the society to mobilize nationwide historians to compile the national historical book entitled "History of Vietnam" - the official historical book of the nation, with the latest research results of the history of Vietnam.
The Prime Minister suggested the establishment of the East Sea Documentation Center under the State Archives Agency (Ministry of Home Affairs).
The Prime Minister also assigned the Ministry of Education and Training to coordinate with the Ministry of Foreign Affairs, the Central PR Committee and relevant agencies to research and add the contents on Vietnam's sovereignty over the Hoang Sa and Truong Sa Islands into textbooks of all grades.
Previously, the central coastal province of Khanh Hoa announced to integrate sea and island sovereignty into history lessons at all general schools in the 2013-2014 school year.
Under the plan, besides introducing the potential and strategic role of the national sea and islands, the affirmation of national sovereignty over Hoang Sa and Truong Sa will be given much space on the subject.
It will be integrated into extracurricular activities and contests to attract the interest of pupils, enhancing their awareness of the significance of the country's sea and islands and Truong Sa and Hoang Sa Archipelagos in particular, as well as their responsibility in protecting the nation's sovereignty over its sea and islands.
According to Le Tuan Tu, Head of the Khanh Hoa Education and Training Department, the province will publish 70,000 books on local history and geography, including content on Hoang Sa and Truong Sa.
Tran Cham