VietNamNet Bridge – Seven out of 10 officials in the medical sector, when asked about the qualification of newly graduated physicians, said the education quality has been decreasing.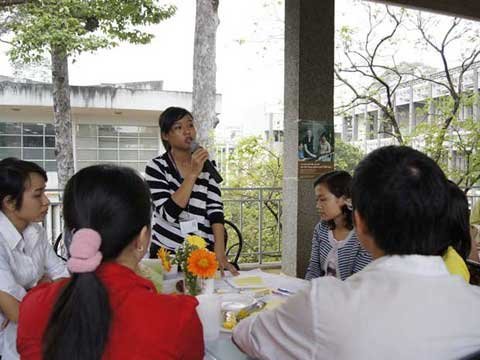 As many physicians as possible
"I really cannot understand what medical schools teach their students. All of newly graduated physicians have vague knowledge and cannot do anything," T, chief of a cardiovascular faculty of a state owned hospital in HCM City complained.
Huynh Thi Thanh Thuy, Deputy Director of the Tu Du Hospital, said most of the university graduates are trained as general practitioners and they have to undergo a one-year training course at the hospital before taking job.
An obstetrics physician also noted that new university graduates are really low skilled in both communication with patients and medical examination. "Some physicians even do not know how to use dilators," she said.
Medical schools, which have been criticized for the education quality, attribute the low education quality to the current policy on training as many physicians as possible.
Dr Thai Hong Ha from the Pham Ngoc Thach Medical University in HCM City complained that the number of students of the school is highest than ever. In the first years of the school's operation, only 100 students were enrolled a year. Meanwhile, the number of students has been increasing rapidly in recent years to 230, 420 and to 620 now.
"We have heard that we would have to receive 800 students the next year because of the sharp increase in the demand. The HCM City People's Committee has decided that there must be 15 physicians in every 10,000 people by 2015," Ha said.
More students, unchanged teaching conditions
While medical schools have been asked to produce more graduates to satisfy the increasing demand of the society, they have not been given better conditions to fulfill their task.
Q, a second year student of the Pham Ngoc Thach Medical School, said the lecture hall is just large enough for 200 students, but it now has to contain 400.
The lecturers and students of the HCM City Medical and Pharmaceutical School also complain about the overloading.
Dr Do Nguyen Tin, a lecturer of the university, said he himself cannot obtain a seat in the lecture hall, let alone students.
However, the biggest problem in medical training is that students do not have the opportunities to practice at hospitals. Some students said they were lucky enough to have the chances to practice at the Pediatrics Hospital No. 1 in HCM City, while their friends, who are sent to the obstetric hospital, just can watch others practicing, while they cannot do themselves.
A scene that can be seen in every morning at big hospitals in HCM City is that students hustle in sick-rooms to listen to physicians' lessons and practice in the cramped rooms.
According to Pham Thanh Hai from the Tu Du Hospital said the hospital receives 460 students from the Pham Ngoc Thach and HCM City Medical and Pharmaceutical University on their internship.
With the poor material facilities and the overloading of hospitals, students complain that the internships are really not helpful to them, because they cannot practice in such conditions. Especially, patients do not like to be examined by students.
Dr Thai Hong Ha has admitted that the overly high number of students has put big difficulties for the school in its training. To arrange places for theoretical hours, the school has to borrow lecture halls from other schools, and to arrange places for the internship, the school has to accept to bring students to non-central hospitals as well.
SGTT