Many bookstores in HCM City have become ideal places for students to read books without having to pay for books.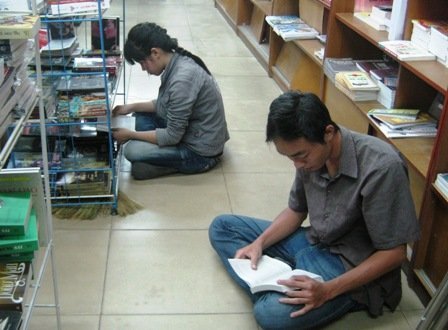 At noon Nhan Van Bookshop in Go Vap District appears to be deserted, but, once inside,  one can see a surprising amount of young people perusing the isles and flipping through pages.
Most are students, moving quietly around the bookcases, looking for their favourite titles.
Nguyen Thi Huong, a student from HCM City Industrial University, said, after class she often comes to the bookstore to read. When she has enough time, she arrives when the store opens and does not leave until they close.
Huong said the bookstore is only busy after 5pm, when many people come to shop. The rest of the day is quiet, making it ideal for reading. Also, unlike libraries, bookstores do not require any paperwork or fees, she added.
"For students, paying hundreds of thousands of VND for books can really add up, and we can't afford to buy them all the time. It's great to be able to read the latest books without having to spend a lot of money. It is very good to read the latest books without having to pay any fees," Huong shared.
Tran Dang Khoi, a student from Hermann Gmeiner Primary School in Go Vap District said, during vacation, besides helping parents to do housework, he spends around two hours a day to reading at the bookstore.
Nguyen Ngoc Thao, from District 5, said she usually takes her children to Phuong Nam Bookstore to encourage them to read. Initially, they were not interested, but now it has become their hobby. They often ask her to take them.
She is unable to afford to buy as many books for the children as she would like, so a great solution is for them to read at the bookstore, she said, adding that it is a great parenting tool. She is able to choose the books her children read and keep them interested in educational subjects, as well as distract them from computer games.
Tran Van Tho, manager of Nhan Van Bookstore, said people are welcome to read in the comfortable environment of the store. He said that the staff have been instructed to be friendly with these visitors.
"The only caviat we have is that they remain silent and take good care of the books. Any damage must be compensated for," he said.
Dtnews