VietNamNet Bridge – The HCM City school system faces a shortage of facilities and teachers for physical education classes for the upcoming school year.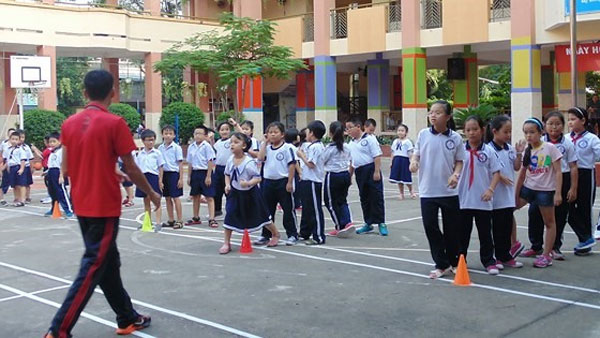 Students at the Tan Phu District-based Tan Son Nhi Primary School attend a physical education class. Photo from sggp.org.vn
Tran Minh Ngon, head of District 4's Office for Education and Training, said at a conference held in the city on Friday that many schools did not have enough space for sports and outdoor activities.
"They must collaborate with local gyms to organise extracurricular activities for students," he said.
Only 30 out of 184 primary schools have sufficient facilities to teach sports such as football, according to the Central University of Physical Education and Sports 2 in HCM City.
Doan Minh Xuong, a lecturer at the university, said: "The shortage of facilities has limited the kinds of sports taught in schools. Many students cannot play their favourite games."
He said the shortage of teachers had also affected the quality of physical education training.
Ngon said that schools facing teacher shortages had to invite trainers from gymnastics and sports centres to work at schools as a temporary solution.
Nguyen Van Hieu, deputy director of the city Department of Education and Training, said the city was paying more attention to finding financial assistance to support physical education activities in the city.
"The municipal authorities are encouraging schools to have a swimming pool to serve students," said Hieu, adding that the HCM City Football Federation was looking for sponsors to fund training and competitions among schools as well as new facilities for football.
He said that financial support was being sought from individuals and organisations for physical education facilities and activities.
Source: VNS