VietNamNet Bridge – Nearly 78 per cent of students scored below 5/10 in history during the recent 2018 national high school graduation exams, according to the Ministry of Education and Training.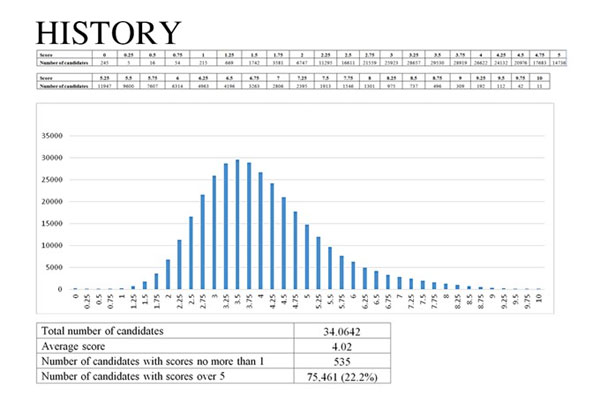 Source: Ministry of Education and Training
The figure was equivalent to over 265,000 students.
The average score for the subject was 4.02 points.
Students in central Da Nang City performed the worst, with nearly 90 per cent scoring below five points, followed by HCM City with almost 81 per cent.
In 2017, the rate of such candidates was 61.9 per cent.
Students also struggled in English, with nearly 73 per cent of the 638,400 candidates sitting the exam for the subject scoring less than five.
More than 900,000 students nationwide registered for the national high school exam last month, their most important exam after 12 years of studying.
Candidates were tested in maths, literature, foreign language, natural science (including physics, chemistry and biology) and social science (including history, geography and citizen education). All the tests were in a multiple-choice format except for literature.
Since 2015, the high school graduation and university entrance exams have been combined into one national exam.
The ministry yesterday also announced that the average total score for a combination of three subjects that will be used for university/college admissions was higher than the pass threshold of 15 points. 
Source: VNS