Airbus, a European aircraft manufacturer, on June 27 clinched two agreements with the University of Science and Technology of Hanoi (USTH), wherein the European firm will provide funding of US$2.5 million for aviation training at USTH between 2018 and 2023.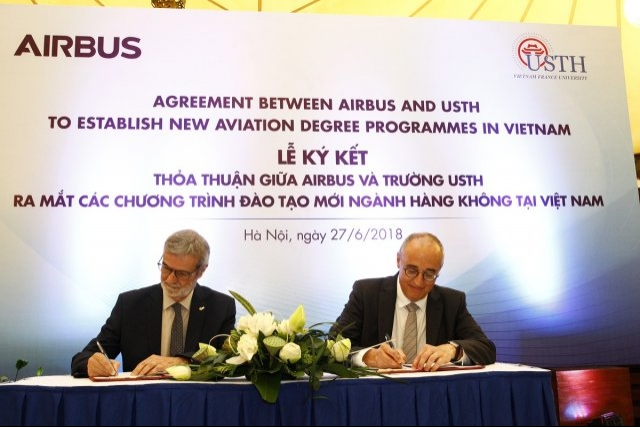 Under the agreements, Airbus will support the establishment of new programs with degrees granted in line with international standards at the Department of Space and Aeronautics.

The funded programs include a Bachelor of Science in Aeronautical Maintenance and Engineering Operations and a Master of Science in International Air Transport Operations. The first batch of Vietnamese students will start the courses in September of this year.

Earlier, Airbus had inked a deal with Vietjet to provide flight and maintenance training services for the local budget carrier in HCMC two years ago. The carrier's flight training center would receive an Airbus A320 Full-Flight Simulator to conduct flight training for its A320 flight crew.

The European manufacturer has also joined industrial partnerships in Vietnam. Meanwhile, Artus Vietnam in HCMC has been supplying electronic and electromechanical equipment for Airbus aircraft over the last 20 years and currently provides components for the complete Airbus product line (A320 Family, A330 Family, A350 XWB and A380).

Airbus's aircraft development programs have offered job opportunities to 550 Vietnamese skilled workers, and this figure is projected to reach 1,200 by 2020. It is actively seeking more cooperative projects in the country.