Vietnam ranked fifth among countries and territories sending their students to Australia in February 2018, according to a recent report from Australia's Ministry of Education and Training.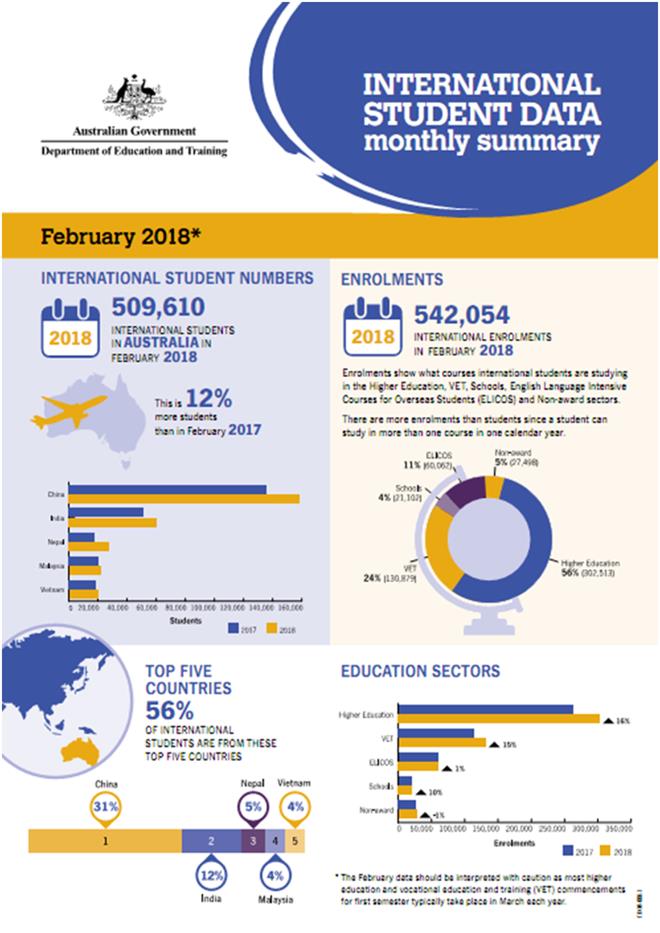 Vietnam ranks 5th in terms of international students in Australia in February (Source: Australian Government)
International students arriving in Australia in February increased by 12 percent compared to the same period in 2017 to 542,054. Of the figure, Vietnamese students accounted for more than 23,000 students. 
"There are currently 23,000 Vietnamese students studying in Australia. They are contributing fantastically to Australian culture and community," said Deputy Head of Mission of the Embassy of Australia in Vietnam Rebecca Bryant.
"The Australian government hopes the number of overseas Vietnamese students continues to grow."  
Australia is one of the leading countries in providing scholarships for Vietnamese students. 
Since the 1970s, more than 5,800 Vietnamese citizens have received scholarships from the Australian Government. In addition, over 50,000 people self-funded their study there. 
"When the students come back to Vietnam, we hope they will continue contributing to Vietnamese economy, society and do great things to the country," the Australian official said.
In February, China is a leading country in sending students to Australia, followed by India, Nepal, and Malaysia.
Surveys showed that highly-qualified degrees and university qualities were two major attractions for international students. 
In 2017, Australia received 624,001 international students of 194 nationalities.-VNA