VietNamNet Bridge – There are more and more ways to communicate with each other nowadays, which help narrow or even blur geographical distances, but sometimes closer to home, people are finding it difficult to communicate.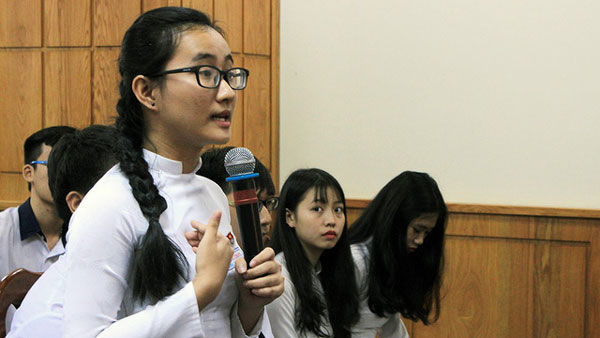 Pham Song Toan, the student, burst into crying talking about the teacher. -- File photo
None more so than a story that moved me about the plight of a young student.
Pham Song Toan — an eleventh grader in HCM City— revealed at a meeting with education officials late last month that her Math teacher did not deliver vocal lectures for about three months.
The teacher even did not talk to students at all and only wrote instructions on a board, which made students too scared to say anything.
The reason the teacher didn't speak is not known, although some suggested it was because a pupil had threatened to record the teacher behaving badly in class, then post the video on social media sites to expose her.
Students had reported the silence of the maths teacher to the head teacher but the problem was not resolved.
Vice chairwoman of HCM City People's Committee Nguyen Thi Thu, as soon as she informed about the case in Long Thoi High School in Nha Be District, said the teacher's silence was a kind of mental abuse against students.
Early this week, school principal announced the teacher Tran Thi Minh Chau was suspended while waiting for further action to be decided.
This week, the student who spoke out was moved to another school in the city to avoid possible pressures and "isolation" from her classmates even though she was right to speak out.
After local media reports, Chau "retalked" to her students including Toan, and admitted she was wrong.
In addition, Chau asked Toan why she did not tell her instead of speaking at a public meeting.
Optimistic thinkers may believe an earlier dialogue between the teacher and the students could have ended the silence sooner as it not only affected the students' psychology but their studying.
However, pessimistic thinkers say that nothing could ensure the success of such dialogue and in fact, communication between the head and the maths teacher failed, the communication between the head teacher and school principal failed too.
It wasn't until the student spoke out that the problem was solved, but there's no denying the mental abuse pupils must have suffered for months.
Thu Ha, a teacher in Hanoi told Viet Nam News she was astonished to know about month-long silence of the teacher in class, especially a maths teacher.
Ha said that like any other job, teaching brought happiness, stress and hardship that challenged teachers but there was no excuse for Chau's silence.
"Solving problems between students teachers and the school is part of their job," Ha said, adding that expertise, enthusiasm, tolerance were all needed to solve the problems.
Ha said when she was unable to solve the problems that students shared, she asked for assistance from students' family, colleagues or school board.
Dr Nguyen Tung Lam, president of Ha Noi Association of Educational Psychology said that Chau was wrong to choose silence to "communicate" to her students even if it was the way she responded to the students' naughtiness or non-cooperation.
"In this case, the principal is also responsible," Lam said.
"Teachers and students not getting along with each other can be seen in any school, so the matter is how the managers/principal addressed it, for example, change to another maths teacher," Lam said.
In the long-term, this case also awoke schools in Vietnam to improve their psychological consultation which offered both students and teachers proper advice in addressing school problems.
For long, psychological consultation in schools in Vietnam was disregarded. Students are not encouraged to speak about their problems or at least there are no mechanisms or channels in place to encourage them to do so. Students can only talk about their problems to each other.
Many parents have total faith in teachers and trust the education system so often are unaware of issues their child may have.
Late last year, the Education and Training Ministry passed a circular on psychological consultation for high school students that took effect in February.
Accordingly, every high school must establish a psychological consultation group to assist students in major issues relating to gender, reproductive health, anti-abusing, career orientation or problems arising in social relationships.
The group includes a member of principal board, teachers, a health worker, parents' representative and students.
Lam said that school psychological consultation was important and must be regular. And counselors must be trained.
"Without proper training and expertise, the group could not befriend students," Lam said. 
"Once the counselors become friends of students, the students would trust, and then share their problems, seek advice whenever they need," Lam said.
There is a saying that "The way we communicate with others and with ourselves ultimately determines the quality of our lives". I do hope we can choose the right way to communicate with each other so that we can together solve problems and have better lives.
It's great if such school psychological consultation could help improve communication between students and teachers so that such a sad case in Long Thoi High School will not happen again.
By Bich Huong
Source: VNS