The Ministry of Education and Training (MOET) on Monday announced a detailed plan for the implementation of the project 'Supporting students in their startup activities until 2025'.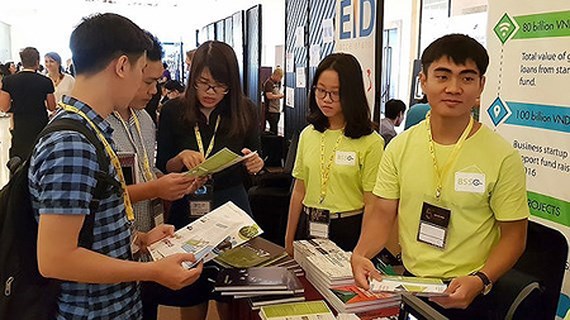 An exhibition of technology and a conference on innovative startup organized in Ho Chi Minh City.
Accordingly, at least 10 support centers for startup students will be built around the country from now until 2025.
One of the notable parts in the project is that the education authorities are going to organize various conferences, workshops, forums, as well as exchanges where new ideas and projects of students are presented to domestic and international investors.
Other activities include hosting a series of events nationally for interested startup students, forming a group of professional consultants to aid students on site in their own educational institutes.
The MOET's project also suggests creating a supportive environment for any student who wishes to begin the startup activity. This could mean establishing startup clubs suitable for the training fields of each educational institute.
In the period from 2018 to 2020, the establishment of three pilot support centers in three recommended locations will begin. In the next period from 2021-2025, there will be at least ten support centers constructed nationwide.
Facilities of educational institutes will be upgraded into the start-up centers first and the centers will be responsible for preparing an idea transaction floor, launching an online startup project involving students, educational institutes, and related businesses.
The MOET asked schools and universities to raise a fund for startup students by helping them attract capital from individual as well as organizational investors.
SGGP