The number of Vietnamese students in Canada climbed to nearly 15,000 in 2017, a three-fold rise against 2015, putting Vietnam among the fastest-growing markets for international education in the North American country.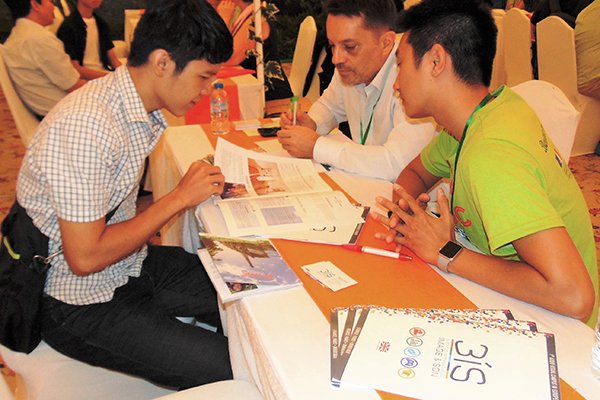 A student looks for information about academic programs at an international education fair 
As of the end of 2017, the total number of international students coming to Canada for top-notch education had shot up to a record high of 495,525 at all levels of study, a 20% pickup from the previous year, according to figures from the Immigration Refugees and Citizenship Canada, as cited by the Canadian Bureau for International Education.
The report said Vietnam has been on the list of the top five sending countries, accounting for 3% of Canada's foreign students and ranking fifth after China (28%), India (25%), South Korea (5%), France (4%), and the same as the group from the United States.
Karen McBride, President and CEO of the education bureau, said in a statement that Canada has gained fame for not only the undeniably prestigious quality of education but also the world-acclaimed reputation as the safe and non-discriminatory place.
Around 95% of international students recommended Canada as the top study destination on earth while 51% expressed their wishes to apply for permanent residence in Canada, she says.
Furthermore, a host of educational fairs and study abroad conferences are annually held in Vietnam by the Canadian Consulate General in HCMC and the Canadian business community to promote advanced academic programs at leading Canadian universities and share information on visa policies, accommodation and necessary services for those having demands to go abroad for further education.
Data from the Government indicates that there were around 130,000 Vietnamese studying abroad at all levels in 2017, and their top five destinations include Japan, the U.S., Australia, China and the U.K.
SGT