A maths competition began in Hanoi yesterday and for the first time there was a new addition – contestants from overseas.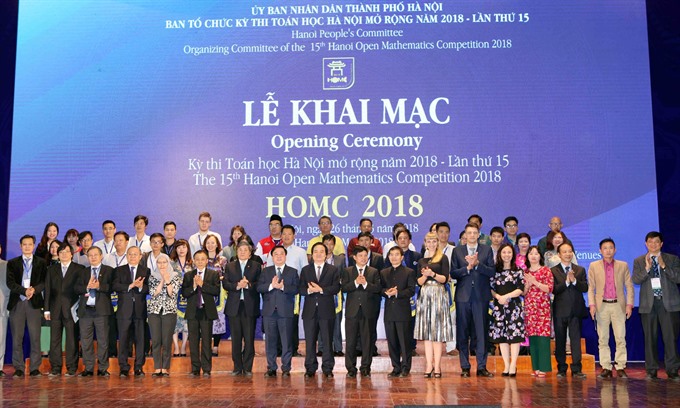 The opening ceremony of the 15th Hanoi Open Mathematical Competition. ''It is also the first time Hanoi has hosted such an international competition.
The Hanoi Open Mathematics Competition (HOMC) runs for four days until March 30, but the competition itself will only take place on March 27, leaving the rest for seminars, workshops, sightseeing as well as performances that feature each country's cultural characteristics.
The contestants are divided into two groups, but the exam questions would be the same with English being the official language.
Group A for 75 foreign contestants from 91 countries – Poland, Indonesia, Malaysia, Thailand, Hungary, etc., as well as 12 overseas Vietnamese.
The contestants in Group A will engage in individual and team completion, at both Junior and Senior levels.
Group B features 411 Vietnamese contestants from 23 provinces and cities across the country, competing at Junior (196 contestants) and Senior (215) levels.
The judge panel comprises of leading Vietnamese mathematicians,
Speaking at the opening ceremony yesterday, the education minister Phung Xuan Nha stressed the role of mathematics as well as natural sciences in the development of a country.
Nha also said the ministry would continue to sponsor and provide support for academic activities like this event as part of Viet Nam's international integration, in line with the Party and State's development policies.
The HOMC was first conducted by the Hanoi Mathematical Society and the municipal education department in 2004 for eighth and tenth grade students in the city, with math challenges being in English. The annual event was soon extended to include contestants from across the country. Several winners of the HOMC have also scored gold medals in international and regional math Olympias.
Outside of being a competition, and now in its 15th  year, it is expected to be a chance to share experience and math teaching practices between the participating countries, as well as an opportunity to foster understanding of capital city and Viet Nam to international friends. ——VNS