The HCM City Department of Education and Training has sought approval from the People's Committee for piloting a "smart schools" programme based extensively on IT use in management and communication between schools and students' families.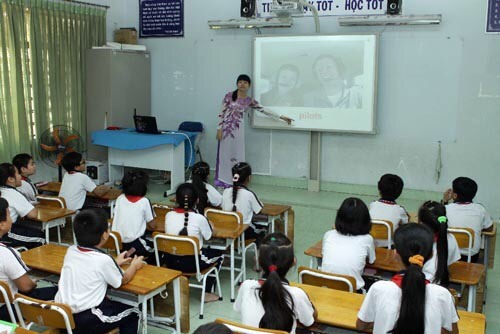 A board with a touch screen being used at a primary school in Bình Duong Province.
Nguyen Van Hieu, the department's deputy director, told the Tuoi tre (Youth) newspaper that the programme is one of the steps in preparing for a smart city by 2020. 
Districts 1, 2 and 12 have been chosen for the trialling, he said.
The smart schools would have teachers trained to fluently use touch-screen boards and design e-learning lessons, and they would use and contribute to creating open databases for teaching, he said. 
They would be encouraged to use software to help their students do virtual experiments, he said. 
Contests for students would be designed to be done on computers and individual touchscreen tablets, he said.
Students would be provided with touchscreen tablets, he said.
There would be studies into what smart devices primary school students could use and the results would be announced, he said.
In some special cases, students would not come to school but learn and do exercises online, he said.
The department is working with several partners to set up an open source database for learning and a website, and create software for interactive lessons based on the Ministry of Education and Training's standard training programme, he said. 
The department is drafting a plan for training teachers in the skills required to establish "smart schools", he said. 
Moreover, an operating centre for the programme will be set up to carry out scientifically and effectively. 
If the programme is approved by the People's Committee, it would start in the 2018-19 academic year at two high schools for gifted students - Le Hong Phong and Tran Dai Nghia - and several primary and secondary schools in districts 1 and 12. 
At these schools, some classrooms will be chosen for the trial, he said.
The department would work with local educational authorities to identify more schools, he said. — VNS