VietNamNet Bridge - For Vietnamese, Tet is the time for family reunions. Those who earn their living far away from their families usually return home to celebrate Tet, but many students cannot.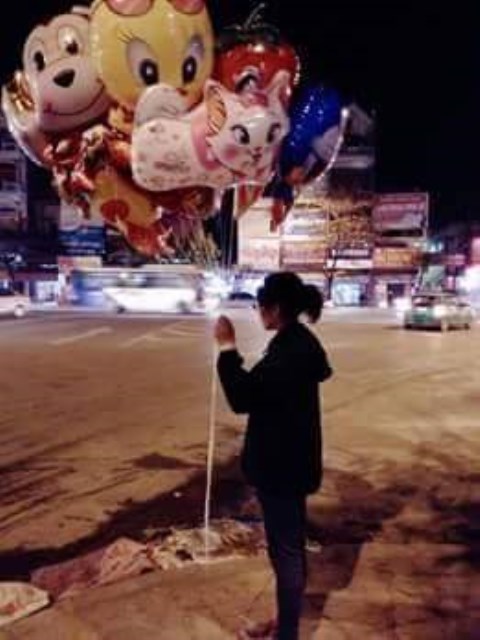 Welcoming Tet in their own way
Truong Thi Tinh, a student at the Hanoi Academy of Journalism and Communication, lives 200 kilometers from her home village. She stayed in Hanoi this Tet to peddle balloons.
In her village, a small locality in Hoang Ha commune in Hoang Hoa district in Thanh Hoa province, young people are rarely seen on Tet holidays.
Timh and her siblings have to work on Tet, the time when they can sell balloons for the best prices.
"I have not celebrated Tet with my parents for the last three years," she said.
Tinh said she has been to every corner in Hanoi, Quang Ninh and Hai Phong to sell balloons. "I just made a call to parents on the Lunar New Year's Eve to wish them a happy new year and then I had to continue my work," she said.
Tinh and her siblings only could return to the rented room after New Year's Eve where they had banh chung (square glutinous rice cake) and celebrated Tet their way. 
After Tet holiday ended, they returned to their home village for one or two days before coming back to school.
Tinh said she earned several million dong on Tet which was enough for her to cover expenses for several months.

The student-housemaid
Le Thi Hai, a third-year student at the Traditional Medicine and Pharmacy Academy, said she had a busy working Tet holiday. 
Hai easily found jobs as demand for housemaids was very high during Tet.
"I worked for three families in the Van Phu residential quarters in Ha Dong district. As their houses were near each other, I could arrange my time well," she said. "I had three working shifts a day in the morning, afternoon and evening, about 9 hours."
She received pay of VND300,000 per working hour. Her jobs were cleaning the house, drying clothes and preparing meals. As university students have longer Tet holidays than workers, Hai also had time to take care of children, which earned her VND50,000 more.
RELATED NEWS
Commune grows trees for poor students
No student left behind: universities offer compassion, care for the poor
Nguyen Thao