VietNamNet Bridge – There is huge irony in saying this: It seems that the education ministry, which promotes learning, refuses to learn from the past and is therefore condemned to repeat it.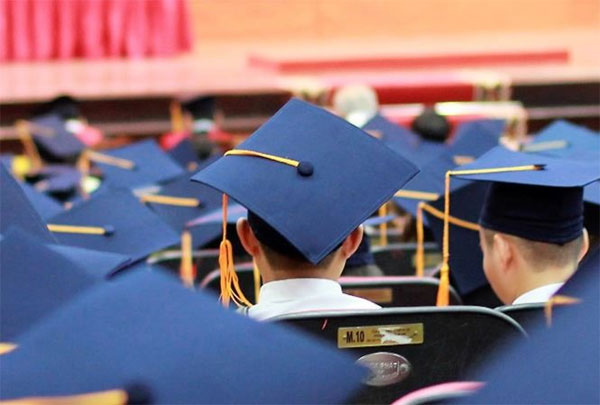 It recently revealed a draft plan to spend up to VND12 trillion (US$533 million) to train 9,000 PhD holders for Viet Nam by 2025. — Photo tienphong.vn
It recently revealed a draft plan to spend up to VND12 trillion (US$533 million) to train 9,000 PhD holders for Viet Nam by 2025.
The plan was met with almost immediate anger and derision, with many calling it impractical and a waste of resources. However, a PhD represents a pinnacle in formal education, and is not to be scoffed at. Why the outcry, then?
The ministry explained that the rate of lecturers with PhD degrees in the country's educational institutions was quite low at just over 16,500 or 22.7 per cent. This has adversely affected the quality of human resources training, it said.
This is a valid argument, in theory. But when officials and experts, including leaders at the very top, have been repeating, nay, chanting for years that our education needs to be made more practical, it is understandable that we consider the practical implications of the argument.
Is there any evidence that increasing the number of doctorate-holding academics would result in a corresponding increase in quality of teaching? A doctorate, if it is obtained from a quality university, indicates a good learner, not a teacher, even if the subject of the thesis is education. What if the doctorate holder is only interested in research, not teaching?
Apart from the questionable assumption that a doctorate holder is automatically a good teacher, we cannot ignore the fact that the quality of many PhD holders in the country has been of great concern for long. The ministry itself has admitted that doctoral training quality has not been top notch, and that it has failed to meet demand.
The phenomenon of "PhD inflation" has also been highlighted in the national discourse.
It also pays to look at what the existing PhD holders have done in terms of scientific research. Viet Nam lags far behind other ASEAN countries in this regard. In the1996-2005 decade, Vietnamese scholars had just 3,400 or so scientific research papers published in international journals, a modest number considering that the norm is for a professor to publish at last one paper each year. Our number is one fifth of Thailand, one third of Malaysia and one fourteenth of Singapore.
The quality of doctoral training has been identified as another problem in our education sector. It has been said that the topics of many PhD theses have not met academic standards. It has been evident for sometime that many Vietnamese institutions have paid too much attention to increasing the number of PhD fellows, ignoring training quality.
Stories about "fake" PhD holders and "super fast" doctoral training have also done their rounds. In 2011, the ministry decided to terminate 101 doctoral programs at 35 institutions in the country, citing low quality training.
Previous failures
The new project also targets sending 5,000 out the 9,000 PhD candidates to be trained abroad. How many doctorate holders who have returned from abroad have made significant contributions to the country, either in terms of furthering quality research and analysis or producing research findings that could be applied in the real world?
Even in this regard, we have a precedent. Project 911 set a target of Viet Nam having at least 20,000 more PhD holders by 2020, half of whom would be trained in reputable universities and colleges around the world. The aim then, as now, was to increase the number of teachers with PhD degrees towards improve the quality of education in the country.
However, after five years of implementation (2012-2016), the project could only provide training for 3,800 candidates. The ministry decided to terminate the project this year.
In 2008, the ministry obtained approval for its ambitious VND9.4 trillion ($420.5 million) foreign language training project. The project, which aimed to "renovate thoroughly the tasks of teaching and learning foreign languages within the national educational system in the period 2008-2020," also fell short of its targets. The ministry admitted the project's failure at the National Assembly session last year.
Yet another project was launched in 2008 to build four international universities with at least one entering the world's top 200 by 2020. Experts said then that it took Asian economic powers like China or South Korea almost two decades to achieve this target, and that Viet Nam was in no position to outpace them.
Realistic vision
Experts have repeatedly pointed out that a key challenge for the education system is to have a clear, realistic vision and stick to it.
In 2014, the ministry conceded another error just several days after announcing a project to spend VND34 trillion ($1.5 billion) on revising textbooks. Clearly not enough preparatory work had been done for such a large scale project. 
The latest doctoral training project loses its appeal and credibility in the context of many problems that have plagued the country's education system for a long time, including training quality, high unemployment rate among degree holders and low salaries for teachers.
The number of unemployed university graduates grew sharply in the second quarter of 2017 with 183,100 bachelor or master degree holders unable to find jobs, up 44,200 compared with the previous quarter, according to the Institute of Labour Science and Social Affairs.
Public pre-schools in Viet Nam pay fresh graduates around VND2 million (less than $100) per month to take care of 15-20 toddlers.
Many public teachers are paid less than VND10 million ($440) a month after spending decades on the job, a remuneration described as "just enough for a couple of trips to the grocery store." In remote, mountainous provinces, many lowly paid young teachers have to climb mountains and cross rivers every day.
Many experts have said that the money is better spent on increasing salaries for teachers, helping improve their living conditions and their professional skills, rather than unrealistic doctoral training.
Clearly, we need more investment of upgrading and building schools, boarding schools, and sanitation facilities for children, particularly in rural, remote and mountainous areas. More than 15,200 classrooms for pre-school children across the country failed to meet national standards, according to a report from the ministry late last year.
There are places in the country with students navigate the high risk of unsafe bridges and boats just to get to school everyday.
These are problems that need our immediate attention as well as resources.
The quality of research done in the country has been found wanting, and having more PhD scholars would certainly help improve this situation. But it is a far from a foregone conclusion that it would automatically raise the quality of education or teaching in this country.
It is time for the Education Ministry to go back to the drawing board, redefine priorities and targets, and come up with projects that the public can support wholeheartedly.
For this, it needs to learn a thing or two. 
Source: VNS