Outgoing US Ambassador to Vietnam Ted Osius has announced that he will take a new post as vice chairman of the Fulbright Vietnam University after finishing his term.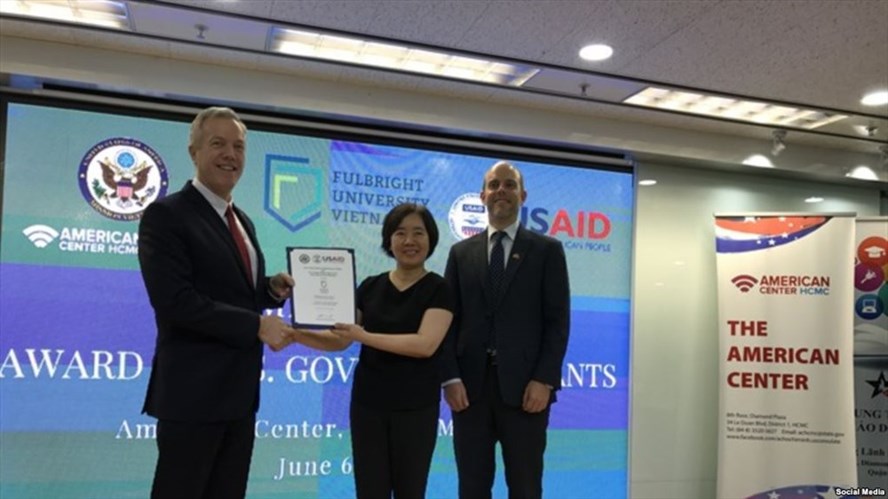 US Ambassador to Vietnam Ted Osius (left) and chairman of Fulbright Vietnam University Dam Bich Thuy. Photo by VOA
At a farewell meeting with the ambassador in Hanoi on October 30, State President Tran Dai Quang expressed hope that the ambassador on his new position will continue contributing to education cooperation between the two countries.
The state president stressed that Vietnam prioritised education, aiming to develop highly-skilled workforce and catch up with developed regional countries.
State President Quang highly valued Ambassador Ted Osius's contributions in advancing the US-Vietnam ties. During his three-year term, the ambassador helped prepare high-ranking visits, the most for a US ambassador to Vietnam so far, including the history-making visit by Communist Party of Vietnam General Secretary Nguyen Phu Trong to the US in July 2015, President Obama's Vietnam trip in May 2016, Prime Minister Nguyen Xuan Phuc's US visit in May 2015, and the upcoming official visit by President Trump.
At the meeting, Ambassador Ted Osius expressed his joy to stay in Vietnam and be able to help advance bilateral ties.
He said that his successor, Daniel Kritenbrink was eager to come to Vietnam and present his credentials to State President Tran Dai Quang before the APEC 2017 Week Summit in Danang.
In June this year, the Ho Chi Minh City-based Fulbright Vietnam University received USD7.2 million in assistance from the USAID and another USD8.3 million in assistance from the US State Department.
DTinews