VietNamNet Bridge - To be sure that their products can satisfy employers' requirements, schools have decided to join forces with businesses to train students.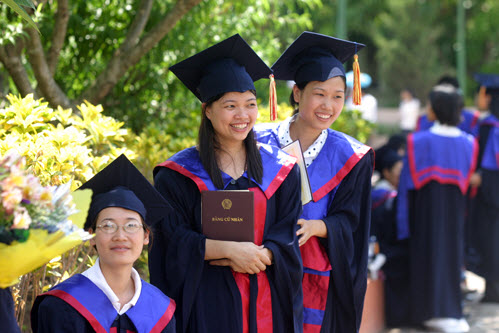 In 2017, the University of Transport Technology (UTT) began applying the 'one no two yes' model for some majors. Under the model, students do not pay tuition, but receive scholarships that encourage study and jobs right after graduation.
This is a high-quality training model designed to order by two Vietnamese companies specializing in transport infrastructure construction – FECON and LICOGI 16. 
To be sure that their products can satisfy employers' requirements, schools have decided to join forces with businesses to train students.
The main purpose of the training program is producing graduates who can immediately satisfy enterprises' requirements and participate in business and production soon after they finish school, without retraining. 

The companies will work with the school on the curriculum to make it more suitable to enterprises' operations. 

The companies will also get involved in the training process by sending staff to give lectures and mark students' graduation designs. 

Students will be able to receive theoretical knowledge and carry out experiments at the school, have internships on construction sites and practice on enterprises' modern equipment.

The enterprises have committed to recruit the students soon after they graduate if they can satisfy the criteria set by the enterprises. Students will get the tuition back once recruited, receive allowance during the internship on construction sites, and have opportunities for scholarships.

Commenting on the model, leaders of the school said it brings benefits to three parties. Enterprises can recruit workers who can satisfy their requirements. Schools can reform training curricula and provide products the society needs. 

Meanwhile, students don't have to worry about financial sources for study, but will have opportunities to practice on site and get good jobs in their majors.

Nguyen Dang Ly, headmaster of the International College of HCMC, praised the model of training to enterprises' orders.

"The students are workers who will be employed by enterprises," he said. "The benefits enterprises can enjoy from the model is that they won't have to spend time to retrain university graduates."

Tran Van Nam, director of Da Nang University, said the model is good but that it is difficult to carry out cooperation.

"Businesses want to have highly qualified workers, who can satisfy specific requirements, but only give modest support," he said.

Nam thinks it is necessary to build up stronger policies to ensure favorable cooperation between schools and enterprises. Enterprises must take the responsibility of supporting students' internships and sending specialists to schools to give lectures and run practice hours.
RELATED NEWS
Vocational learning: pathway to success
Vocational education reform key for Vietnam
Tien Phong