VietNamNet Bridge – At the beginning of this school year, teachers and students at Phan Ngọc Nhan Primary School in the central province of Quang Nam were very curious about the used shipping container that had materialised in their school yard over the summer break.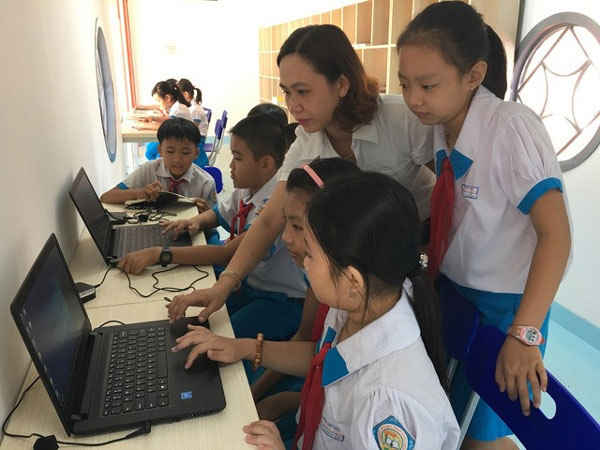 A teacher instructs students on the use of laptops at a container library. — Photo dantri.com.vn
The container is a present from a Swiss organisation to the school and has been turned into the school's new library, painted an eye-catching orange and outfitted with a glass door and windows.
"No one imagined such a perfect library," says school principal Luu Cuc. The air-conditioned room contains over 1,000 books, four desks and dozens of chairs. Four laptops connect the library to the internet. "No one thinks they are in a container when they come in," Cuc said.
"We call it a five-star library," Cuc said, adding that it was far superior to the school's previous library, which failed to meet the demand of its 800 students.
Since the 27 sq.m container was opened, it has become a favourite destination of many students during breaks and after school.
A fifth grader, Nguyen Thanh Quy, said he usually went to the container library after school to relax and read new books. "I find many interesting books here. I will read all books in this library," Quy said.
In 2015, the Darius Foundation, a Swiss non-governmental organisation, built the first container library in collaboration with Maersk Vietnam at the Long Binh Dien Secondary School in the Mekong Delta province of Tien Giang as part of a project to build libraries for children in rural areas.
The library, built at a cost of VND250 million (US$11,000), has six computers and 1,000 book titles.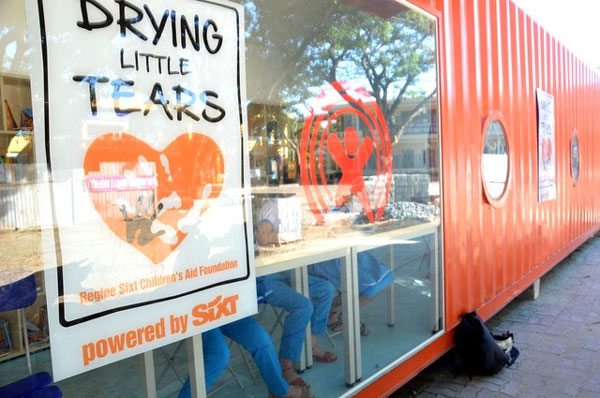 A used container turned into a library in Phan Ngoc Nhan Primary School in the central province of Quang Nam. — Photo dantri.com.vn
Similar school libraries, some of them mobile, have been built in other provinces, including Can Tho and Soc Trang.
Mobile libraries provide children in rural areas with the opportunity to access books they would never have otherwise, as well as laptops with access to the world wide web. The libraries are expected to help narrow computer skill gaps between children in urban and rural areas.
Six years ago, the Darius Foundation launched a mobile schools project for rural children in the Mekong Delta region, providing computer and internet skills training in modified containers. However, once every three months the 10 mobile schools move to new locations for new courses, and the children have almost no access to computers for practice. Accordingly, the library was developed to secure the results of the training program in computer and internet skills.
All schools in Viet Nam are supposed to have a library. However, school libraries often fall short of the needs due to modest investment.
Speaking at a book fair last year, Deputy Minister of Education and Training Pham Manh Hung said that on average, a Vietnamese reads four books yearly, including 2.8 textbooks and 1.2 books of other kinds.
Meanwhile, a Singaporean reads about 14 books a year, Malaysians 10 books and in developed countries like France, Japan and Israel, every person reads 20 books per year, on average.
Early last year, the ministry asked education and training institutions to promote reading culture at schools by improving public awareness of the pleasure and importance of reading books, increasing training for librarians, improving reading skills and ability to search for information.
Particularly, teachers at kindergartens are asked to spend time reading books to children and encouraging parents to do the same.
The ministry also called for contributions and co-operations from individuals and organisations in developing school libraries.
VNS