VietNamNet Bridge – From August 30 to September 1, Minister of Education and Training Phung Xuan Nha and representatives of Vietnamese schools visited Denmark and Sweden to seek cooperation opportunities.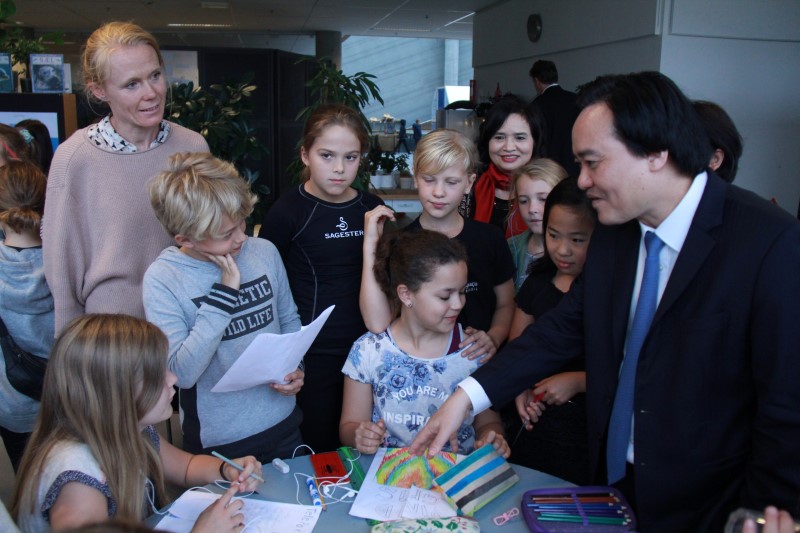 Minister Phung Xuan Nha visited Hellerup Skole Elementary School and talked with students. Photo: Ha Anh
At the meeting with Danish partners held by the Ministry of Education of Denmark in the morning of August 30, the two sides discussed the issues of university quality assessment and the challenges posed to higher education when the scale of higher education expands.
At the meeting, 17 memorandums of understanding (MoU) between Vietnamese and Danish universities were signed, focusing on the cooperation in the fields of training and research in the field of medicine, geology and mining, application of information technology in education and others.
At the talks with Minister of Higher Education Soren Pind, the two sides discussed cooperation in the fields of higher education, improvement of qualification of lecturers, career orientation for students, exchange of lecturers and the model of autonomous university.
Minister Nha asked for Denmark's support for the groundwater project of the University of Mining and Geosciences of Vietnam, the exchange of students and lecturers with the University of Foreign Trade of Vietnam.
The same day, Minister Phung Xuan Nha visited the Niels Brock School of Business and talked with the school leaders about the education and training activities in Vietnam. Nha and the Vietnamese delegation then attended the forum hosted by the University College of the Capital (UCC).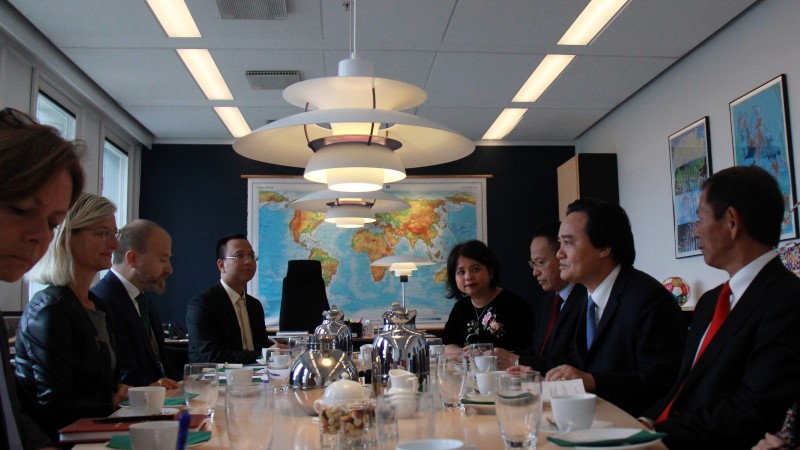 Minister Phung Xuan Nha at the meeting with the Ministry of Foreign Affairs of Denmark. Photo: Ha Anh
On August 31, Minister Phung Xuan Nha visited the Hellerup Skole Elementary School in Stocklhom. This is a multi-level school from kindergarten to junior high school, which is designed in the form of open space and open classrooms, where teachers are allowed to design many learning contents based on the needs of students.
At the same time, representatives of Vietnamese universities went to the University of Copenhagen to promote opportunities for cooperation between the two sides.
At a meeting with Danish Minister of Foreign Affairs Ulla Tornaes, the two sides discussed the STEM program and the cooperation between Vietnamese schools and Lego. The two sides also exchanged results of cooperation in the recent time and the orientation for cooperation in the coming time.
Minister Phung Xuan Nha later traveled to Sweden, where he held talks with Education Minister Anna Ekstrom and Minister of Higher Education and Research Helene Hellmark Knutsson at the headquarters of the Swedish Ministry of Higher Education and Research.
Ha Anh