VietNamNet Bridge - Ten years ago, in-service training for bachelor's degrees was the bread-earner for universities. Now, schools live on master's degree training.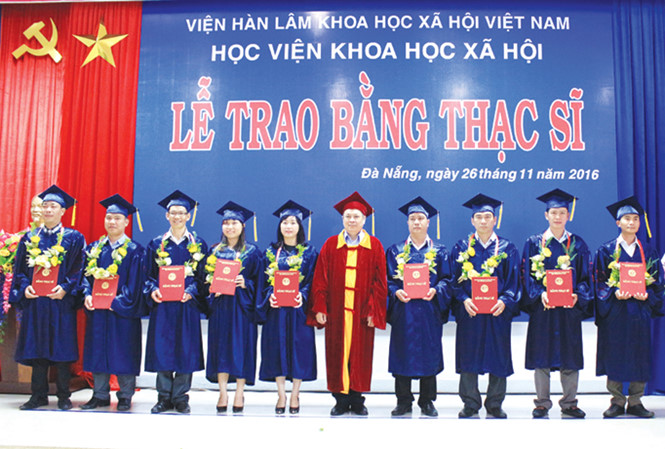 Luong The Vinh University cannot enroll any student for regular full-time training this year. The same thing happened last year; in fact, enrollment has become difficult since 2013. 
Tran Le Lam, president of the school, explained that the training quality of private schools cannot be compared with state-owned prestigious schools such as the Hanoi University of Science & Technology.
Finding full-time students is a common problem for most non-state schools. Students still prefer state-owned schools because they believe they have better training quality, which allows them to find better jobs in the future.
Ten years ago, in-service training for bachelor's degrees was the bread-earner for universities. Now, schools live on master's degree training. 
However, Luong The Vinh still thrives with just one master's major – business administration. To date, it has enrolled postgraduates for six training courses, about 200 students per annum.

At a working session with the NA's culture & education committee, the school proposed to expand the master's training scale to many other majors. 

"The school has been developing well in the last few years with the master's training. We now provide training in only one major with the 'quota' of 250 students a year. The demand is high and the number of students is no less than 200 every year," Lam said.

VASS (Vietnam Academy of Social Sciences) is also a school which trains a high numbers of masters. The Ministry of Education and Training (MOET) inspectors have found that with the current facilities and lecturing staff, VASS can train 86 master's degree in 2017. However, the academy earlier this year planned to enroll 1,600 postgraduates for master training. In 2015 and 2016, it also planned to train 1,600 master's each year.

On April 12, 2017, the academy made public the list of 720 candidates passing the entrance exams for master training. Another entrance exam was organized on August 25-27 in Hanoi, Central Highlands, Da Nang and HCMC, where there were 858 examinees. 

MOET, which took an inspection tour to VASS recently, discovered many violations in master's level training.

Prof Dr Vo Khanh Vinh has been found instructing 29 master students in law, 10 in public policies, and five in social work. Associate Prof Dr Ho Sy Son guided 18 students, Dr Ho Ngoc Hien six students, Dr Tran Minh Duc 9 students and Dr Ha Thi Thu 12 students. 

Meanwhile, under current regulations, one professor can guide no more than seven students and one Associate Prof, Dr of Science can guide no more than 5 students. The lecturers with one year or more experience can guide 3 students at maximum.

The number of postgraduates successfully defending a thesis for a master's degree was at a record high – 1,114 in 2015 and 1,697 in 2016.

Thirty-seven academies throughout the country are assigned to provide post-university training.
RELATED NEWS
Vietnamese student wins three master's, doctoral scholarships in the US
190,000 workers with bachelor's, master's degrees and doctorates unemployed
Le Van