VietNamNet Bridge - Even after accepting students with low entrance exam scores, pedagogical schools are continuing to see a drop in enrollment.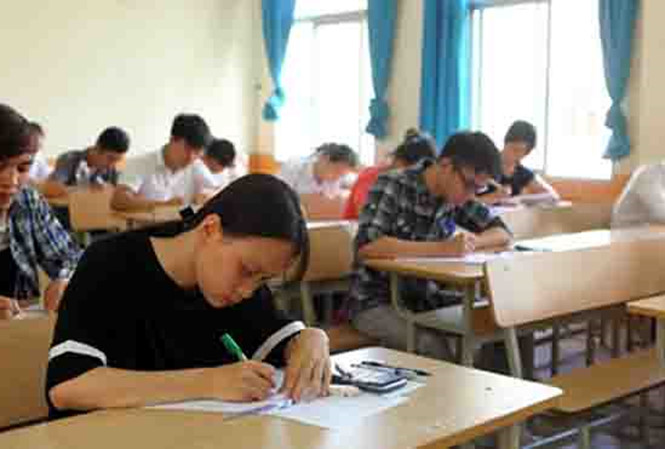 Dak Lak Pedagogical Junior College (3-year training) plans to enroll 400 students this year. After considering applications, the school decided to convene 294 students who got a 12.25-17.25 entrance exam score. However, only 116 students turned up to confirm their studying.
Students need to get a 10 for three exam subjects to apply for the Ha Tay Pedagogical Junior College. However, only 718 students got a 10 score and higher, and only 247 have confirmed their study. 
Meanwhile, education universities (4-5 year training) accept students with a 15.5 score.
Educators have repeatedly warned about the low requirements for students. 
Even after accepting students with low entrance exam scores, pedagogical schools are continuing to see a drop in enrollment.
A high school teacher in Hanoi commented that with the easy exam questions this year, even students with a 15.5 score (equal to the floor mark set up by MOET) are not good enough to follow university education, let alone students with only a 10-12 score.

According to the Ministry of Education & Training (MOET), Vietnam has 235 universities and academies (170 state-owned, 60 private and 5 foreign invested schools), and 37 research institutes assigned to train PhDs, 33 junior pedagogical colleges and 2 intermediate pedagogical schools (2-year training).

As for pedagogical schools, there are 58 universities, 57 junior colleges and 40 intermediate schools which have teaching training majors, or 155 teaching training establishments 

In the 2016-2017 academic year, Vietnam had 1,767,879 students, an increase of 0.8 percent compared with 2015-2016, but the number of students at pedagogical junior colleges decreased by 14.3 percent to 47,800.

By the end of the 2016-2017 academic year, 151,208 students had been trained at 14 pedagogical universities, central and local. MOET cut the training scale of pedagogical schools by another 20 percent in 2017-2018.

However, experts said it is necessary for MOET to restructure the network of pedagogical schools with a heavy hand by reducing the number of schools. 

Van Nhu Cuong, president of Luong The Vinh High School, a renowned educator, has urged MOET to reconsider the enrollment of students for pedagogical schools and not to enroll students at any cost.

"I believe that pedagogical schools should only admit students with an 18-20 score at least," Cuong said, stressing that if teachers' quality is low, education reform initiated by MOET would be in danger.

Agreeing with Cuong, Giap Van Duong, the founder of an online school, warned that if MOET cannot attract qualified people to the education sector, all reforms will be in vain, sooner or later.
RELATED NEWS
When will Vietnam eliminate junior pedagogical colleges?
Education ministry says Vietnam has too many teachers, institutes
Le Van