VietNamNet Bridge – A third-year student of the HCM City Open University, Tran Thi My Linh has done several part-time jobs while pursuing her degree in tourism administration.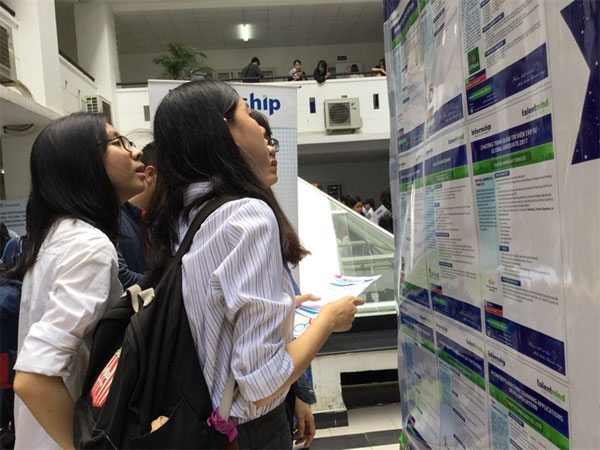 Students of HCM City Open University look for internship opportunities at a career day event held on campus on August 13. – Photo: Gia Loc/VNS
Being a receptionist and a waitress at small restaurants has helped her earn some money, but she has gained something far more valuable – work experience, which will make it easier for her to get a full-time job after graduating, she hopes.
Finding part-time jobs is not very difficult, Linh said, adding that she usually works in the afternoon and evening, when she does not have to attend university classes.
"These jobs teach me how to serve and communicate with people and how to solve problems at work," she said.
Linh is among many students who are aware that they stand a better chance at getting good jobs if they have some work experience when they apply.
A third year student of the HCM City University of Pedagogy, who did not want to be named, said students have many options for getting part time jobs.
"I am majoring in English, so I apply to work as a translator at exhibitions, fairs and other events organised at hotels, convention centres and similar places," she said.
Experts in Human Resources (HR) affirm that students with some work experience will find it easier to get jobs after graduating than those who only study to pass the examinations.  
Pham Thi Hoai Linh, HR director at Navigos Group, said that at Vietnamworks.com, 74 per cent of enterprises that advertised on the employment website in the first six months of the year required new graduates to have to some work experience besides professional knowledge learned at universities.
Navigos Group runs Vietnamworks.com and Navigos Search, providing online recruitment and executive search services, human resource consulting and aptitude tests.
Speaking at the Career Day organized on August 13 at the HCM City Open University, Linh said a common way to get work experience was through internships that many enterprises provide. Many of them need second and third year students as interns, but fail to get them.
Early start
"Students should not wait for the last year of studies to seek internship opportunities at companies. Interning as soon as possible while studying at university helps students have more time to gather experience and build a good environment to learn soft skills that will help them compete in the labour market."
Nguyen Thi To Uyen, HR director at Sacombank, said students should also consider internships as opportunities to find out which job is suitable for them.
She noted that unlike in past, many enterprises were "taking the initiative" in visiting universities and colleges to offer programmes for students to intern.
At Sacombank, a third-year student of Finance and Banking Faculty can attend a programme called the Sacombank Semester for five to six months, she said.
Under this programme, students would work as an assistant to the bank's official staff, and six months, they would have gained a deeper understanding about banking jobs and can evaluate whether or not they like them.
A poster at the Career Day event showed many major enterprises like NEC Viet Nam Co. Ltd, DHL Supply Chain Viet Nam Ltd, Suntory Pepsico Vietnam Beverage, and TP&P Technology Co. Ltd were looking for third and fourth year students to work as interns. The poster also carried work descriptions.
For instance, interns at TP&P Technology Co. Ltd would receive training and perform tasks assigned by technical leaders and have opportunities to research new products and technologies.
It could also be seen that the companies were looking for students with good English communication skills.
Linh of Navigos Group said English was a decisive element for success or failure of students in a competitive labour market.
"Students should consider that learning English to communicate well is a must," Linh said.
Tran Anh Tuan, deputy head of Centre for Forecasting Manpower Needs and Labour Market Information, said many students did not have adequate English communication skills. This was also a common problem that weakened Vietnamese workers' position in the labour market, he said.
"Several foreign enterprises have also complained to me about my generations' indolence, which will not help new graduates succeed at work, "Tuan said.
Uyen of Sacombank also advised that students and new graduates should have the qualities of diligence and patience, which ever career they choose.
Because of many opportunities, it will be easy for them not to focus on a particular job, switching to more lucrative ones very often. However, this indicates a lack of passion for a job or career, she said.
Tuan said: "They should work with the spirit of a startup, meaning that they should dare to work hard and develop."
People with good qualifications, English skills and soft skills are never unemployed, he said. 
Gia Loc
VNS