VietNamNet Bridge – Ha Noi resident Nguyen Phung Hung didn't get into his first choice university, Ha Noi Medical University, despite a high score of 29.25 points in the national high school exam. The number of top scorers was so high, that admissions officials had to add criteria to enable their selections.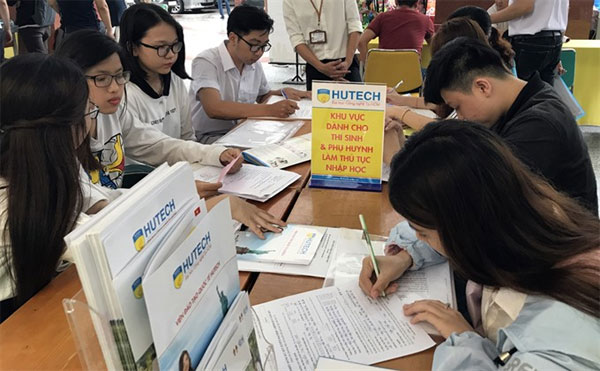 High school graduates complete their applications to HCM City University of Technology. Photo: — VNA/VNS
Hung was one of many students who scored high on this year's national high school exams - that also serve as university entrance tests - but were still not admitted to their school of choice.
Associate Professor Nguyen Ngoc Khoi, head of the training department of HCM City Medical University said, "We predicted admission scores would be high. But the admission council was still surprised. The highest score was 32. It shows the tests this year did not classify students well. In fact, many students got maximum points or 29.25. We had to use two extra criteria for admission."
The university's minimum score for the general practitioner department was set at the highest level of 29.25, 2.5 points above last year. The lowest admission score was 22.25 for the public health department.
Pham Tan Ha, vice principal of University of Social Science and Humanity under HCM City's National University said that this year, multiple choice tests were used for the first time in all subjects except literature, making it easy for students to get high scores.
This year, for the first time also, Ministry of Education and Training allowed candidates to apply to as many as universities as they want.
However, candidates would have to list their priorities in order, so if they failed to get into their top choice university, they would be considered for the second option.
This led to too many registered options. National Economic University, for example, had 60,000 faculty options registered by more than 29,000 candidates.
The admission scores of this university also hit record highs. Fourteen of 25 faculties accept candidates with 25 points or more. The highest, international economy and accounting, required 27 points, a surge of 1.5 points compared to last year.
Due to the high scores this year, several universities have extra criteria besides admission scores such scores for each subject.
Extra points still work?
According to exam rules, candidates from rural, mountainous and disadvantaged areas or children of war invalids and martyrs have added scores to their total scores, called "region priority scores". These scores range from 0.5 to 1.5 points depending on the region.
Many educational experts proposed that region priority scores be removed in the context of high scores this year. Others said that to create equality between rural and urban students, each school should have admission quota, for example, 80 per cent rural students and 20 per cent urban students.
Vu Khac Ngoc, a chemistry teacher in Ha Noi, said that region priority scores are a good policy and should be maintained. However, the scores should be cut to create equality.
Ngoc said that educational approaches in localities have changed. Students can learn online and exams are held locally, shortening the gaps between rural and urban areas.
"If we keep adding scores, candidates in urban areas will struggle to get into top universities. We will see "migration": Ha Noi's students move to Thai Binh, Hai Phong and Thai Binh, Hai Phong students flock to Ha Noi to study medicine," he said.
Deputy Minister of Education and Training Bui Van Ga said that only one per cent among 4,000 majors have admission scores higher than 30.
Nguyen Thi Kim Phung, head of the Ministry of Education and Training's Higher Education Department said that admission scores this year are not abnormal. Candidates with 30 points who were rejected by their first option were rare cases.
"We cannot look at this case to assess the whole exam," she said.
Ga said that "The (added score) regulation specifies priority policy of the Party and State for candidates in disadvantaged areas. When this policy changes, added scores will also change. For example, provinces which used to be in the disadvantaged list have been developing and are now no longer in the disadvantaged list. Added scores for these localities will be reduced." 
VNS