VietNamNet Bridge - Though many parents and teachers oppose the VNEN education model, it is still being applied at many schools.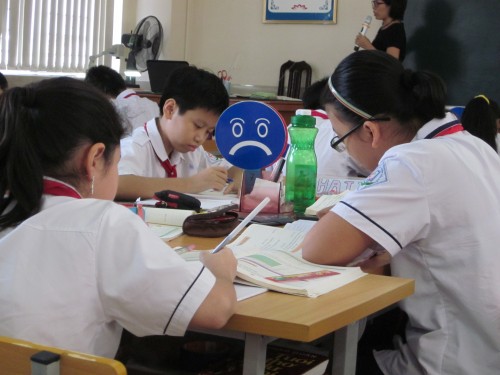 Phap Luat TP HCM newspaper on July 11 reported that Nguyen Thanh Giang, director of the Ba Ria–Vung Tau provincial Education and Training, told the provincial People's Council that he should not have used the VNEN model.
Ba Ria–Vung Tau was one of the provinces that decided to apply VNEN on a large scale.
Giang said the provincial People's Committee would organize a conference to officially review the efficiency of VNEN, and detailed instructions will be released after the conference.
Though many parents and teachers oppose the VNEN education model, it is still being applied at many schools.
Meanwhile, MOET has sent a letter to the province, reminding students who are following VNEN that they may meet difficulties when shifting to the normal model. 

Therefore, the local education department thinks the VNEN model will still be applied on a voluntary basis. Those students who like the model will continue following it, while those who don't want it will have the right to move to other classes to follow the normal model.

Lao Dong on July 16 reported that VNEN was a hot topic at the people's council meetings in many provinces. Director of the Hai Phong City Education & Training Department Nguyen Xuan Truong admitted shortcomings of the VNEN model.

Prior to that, parents in many provinces including Nghe An, Ha Tinh, Ha Giang to Dak Lak and Bac Ninh protested against the application of the model.

"The VNEN model still is still applied throughout the country, except Ha Giang which stopped the model in 2016. This means the VNEN pilot program is still under implementation and it's unclear where the program implementation will lead," the newspaper commented.

According to Infornet, MOET still has not given detailed guidance about 'the procedures and measures to 'apply the model on a voluntary basis'. Thus, local authorities have not collected opinions from parents and students and have continued using VNEN.

The GPE-VNEN project has finished. Meanwhile, the two officials in charge of the project implementation – Deputy Minister of MOET Nguyen Vinh Hien and the project director Pham Ngoc Dinh – have got retired.

When the $87.6 million project began to be applied on a trial basis at general schools in January 2012, it was praised by educators as the 'ideal teaching model' for Vietnam. However, it is now facing the strong opposition from parents and teachers in many provinces and cities.
RELATED NEWS
Schools encouraged to use VNEN model
VNEN documents to be developed into official textbooks
Thanh Lich