VietNamNet Bridge – Students at Nguyen Dinh Chieu School in HCM City now have something to look forward to when they get up every day to go to class.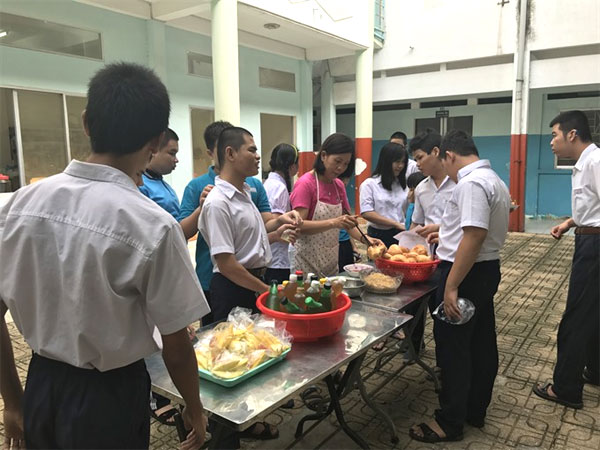 The school playground is packed with students and teachers queuing up to buy food from the school's culinary arts and entrepreneurship class. 
Along with academic subjects, the school, which serves students with varying degrees of vision problems, is offering life skills courses to help them better integrate into the community.
A culinary arts and entrepreneurship course is the highlight of the programme.
"The course has been running for three years and is part of a larger programme providing students with social skills," said Nguyen Thi Thu Suong, who has 28 years of teaching experience.
"We hope the students will be able to get a job and participate proactively in family and community life," she added.
The course is designed for all student levels, especially for older students who lack social skills and have difficulty learning academically.
The culinary and entrepreneurship course requires students to go to the grocery, prepare and package food, and sell products to fellow students and teachers every Wednesday morning.
The participating students then prepare and have their own lunch when the 9am school break is over.
Taking part in such activities gives students a well-rounded experience of how it feels to "live a normal life", according to Suong.
Since the students at the school have a wide range of vision difficulties, students receive assistance from one to two teachers who watch over the entire process and lend them help, if necessary.
"My students have done quite well," Suong said. "Though they can only do one simple task at a time, they have improved, and some are now able to help their families cook a three-course meal."
To help the students practice efficiently, food preparation is divided into small tasks.
Students are instructed to repeat the same task many times during the course, because what may be easy for their sighted counterpart is more difficult for them.
"We don't introduce new dishes until students have become familiar with cooking one dish. Our menu now includes baguettes with shredded pork skin, homemade herbal drinks, and sliced mangoes with chili salt," Suong said.
Student Nguyen Quoc Hung, who has never felt comfortable cooking, said he enjoyed the process.
"I love it even more because we don't have to take exams to pass the course. We only need to repeat what we've learned," he added.
Each class has seven to 10 students whose degree of vision and cognitive abilities differs, affecting learning and social integration.
"That's why we don't assign similar tasks to every student. We understand that some students are able to chop spring onions, while some can only prepare the packaging," Suong said.
The course also helps the students feel more socially included among their peers.
Suong said that certain considerations must be taken into account when designing educational programmes for visually impaired students.
"Since some students need more time than others, we don't want to rush any student," she said. "Honestly, I can be impatient and discouraged when students sometimes can't handle tasks, but they're just temporary feelings." 
"At the end of the day, we can't expect them to perform as well as their counterparts. We can only revise the teaching method to help them acquire knowledge and skills more efficiently," she added.
In addition to students' individual needs, which make drafting a meaningful programme time-consuming and difficult, another challenge is gaining support from students' families.
Many parents have doubted the efficacy of the programme, saying they prefer to have their children focus on academic subjects, according to Suong.
"But after three years, the parents have started to appreciate it. We're so pleased to be able to help. We've had no accidents, either," Suong said.
Every Wednesday morning, the school playground is packed with students and teachers queuing to buy food from the culinary arts and entrepreneurship class.
Since each item sells for only VND5,000 (US$0.2), the food sells out quickly, according to student Pham Doan Anh Thuan.
"I feel lucky that we have been able to run the programme, given that our school's facilities are not in good condition and our financial capacity is limited," Suong said.
The school provided funding only during the first few months.
Suong said the profits from sales of food items would be used for future purchases of food.
Nguyen Thi Que Huong, the school's vice president, said that similar programmes were common in other countries and that more specialised schools in Viet Nam should embrace the practice.
"We sincerely hope that all kids are accepted by society," Suong said.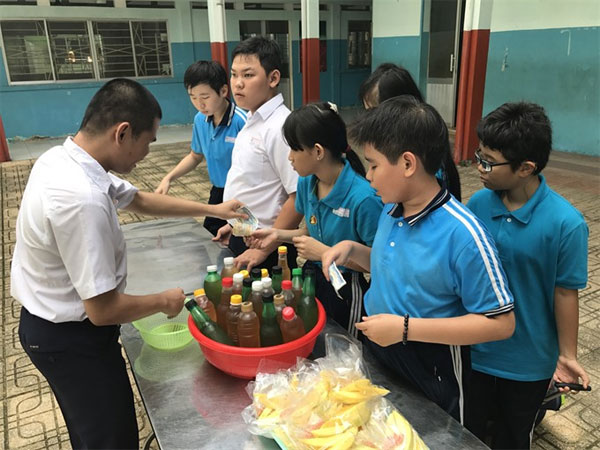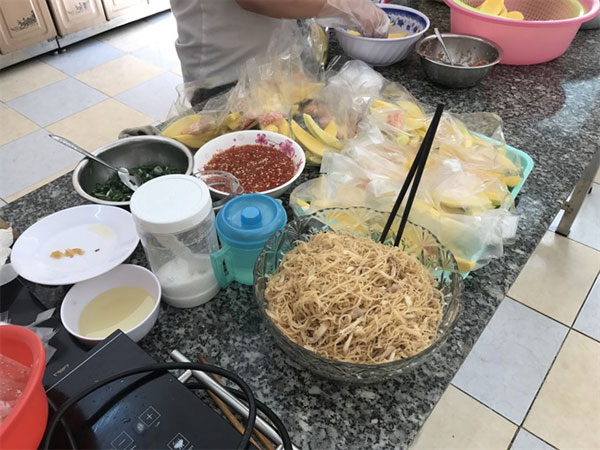 The school menu includes a baguette with shredded pork skin, a homemade herbal drink, and sliced mango with chili salt, each selling for VND5,000 (20 US cents).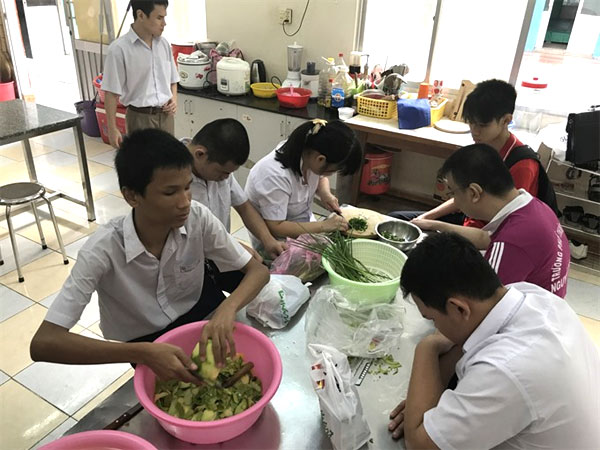 Each student is assigned a different task, depending on their degree of vision and cognitive ability. – Photos: An Phuong/VNS
An Phuong
VNS