Hanoian parents face an annual headache of registering their children at public schools, and the school year 2017-18 is no different, with the number of public schools limited but the number of children at school age rocketing in the city.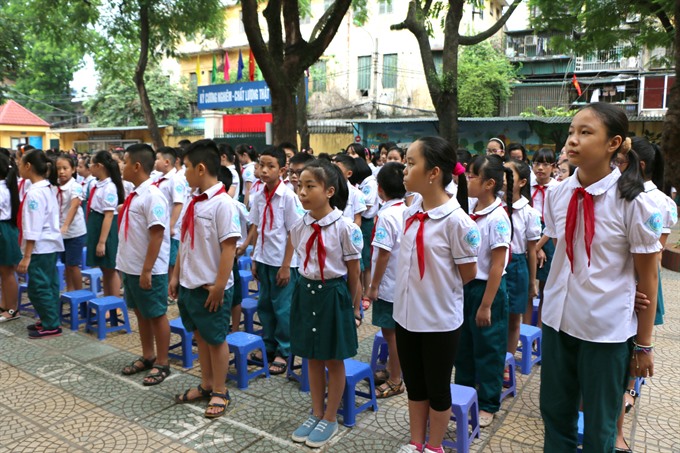 Students at a flag-raising ceremony in Viet Nam - Cuba Primary School. 
The city's Education and Training Department allows parents to register their kids online via the department's official website http://tsdaucap.hanoi.gov.vn/.
The enrollment window for students starting kindergarten is between June 19-22, those starting first grade at primary school June 15-18 and June 23-26 for those entering sixth grade at secondary school, the Tiền Phong (Vanguard) online newspaper reported.
Although parents were encouraged to register online, for parents uncomfortable or unable to register online, they can register in person at schools between July 1 and July 15, the department said.
Nguyễn Ngọc Lan, of Hoàn Kiếm District, said "I am very worried if the website suddenly crashes or there are unexpected errors if it has too many people online at the same time that I will fail to register my son for a public primary school." Additionally, the online enrollment time was short, she said.
Nguyễn Văn Định, of Hai Bà Trưng District, said "It upsets me very much".
He could not register online and plans to register directly at school to ensure his daughter can attend.
Phạm Thảo My, of Long Biên District, said she spent a great deal of time reading and copying the registration instructions from the website.
"When the online registration opens, it will take me little time to finish the registration," she said.
The parent's worries were easy to understand, given the fact that data from the city's education and training department showed that local public schools only have room for about 70 per cent of students in the city. The rest would have to study at private schools, the department said.
Ngô Văn Chất, head of the department's examination management and education quality assurance office, said parents should carefully prepare all required information before the registration window.
This would make the registration process quicker, more accurate and avoid mistakes that could lead their children to miss the chances to study in public schools they want to, he said.
Overloading in public schools
Overcrowding at schools, especially kindergarten and primary schools, is predicted to persist in districts with a lot of new urban areas, residential buildings and major industrial zones in the city.
Vice chairwoman of People's Committee of Thanh Trì District Phạm Thị Thu Huyền said in the school year 2017-18, some 6,632 new children are expected to start studying at kindergartens in the district, while primary schools are bracing for 500 more children than the previous school year.
For example, Tả Thanh Oai Primary School, located in Tả Thanh Oai urban area, has 12 first-grade classrooms; however, the number of first-graders in the area this year is set to be 913, she said.
This means that on average, up to 80 first-graders may have to study in a single classroom, she said.
Vice chairwoman of People's Committee of Long Biên District Đinh Thị Thu Hương said the number of sixth-graders this year was estimated to be 6,000 higher than last year.
With an average of 41 students per classroom, public secondary schools in the district would need 23 new classrooms to meet demand, she said.
For public primary schools, the number of first-graders is set to rise by 995, leaving the district needing five new classrooms, she said.
Although the city administration constructed 121 new public schools across the city with total investment of VNĐ3 trillion (US$132.2 million) during 2012-15, this still failed to meet demand because of rapid population growth.
Statistics from the education department show the city has 2,265 public schools with about 1.8 million students at all levels.
The city administration has ordered districts and agencies to spend more land funds to build schools to fix the situation by 2020.
VNS