VietNamNet Bridge – The story of a family that took its two boys out of school to teach them at home in HCM City has been generating public interest after newspapers and social networks reported on it as a successful model.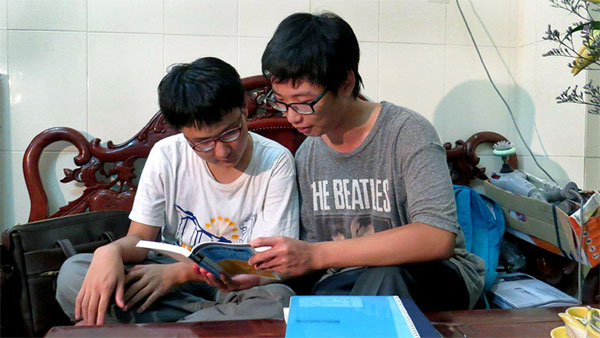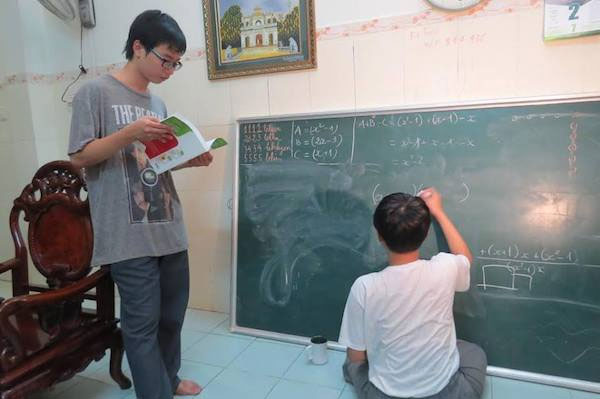 Two brothers, Dang Nhat Anh, 19 and Dang Thai Anh, 14, dropped out of school after finding their curiculum too stressful and unsuitable for their development
Two brothers, Dang Nhat Anh, 19 and Dang Thai Anh, 14, dropped out of school after finding their curiculum too stressful and unsuitable for their development, and felt they were being unfairly treated by teachers, as well.
They have been taught at home by their father, Dang Quoc Anh, a former university professor who decided to quit to be a full-time dad and home teacher.
What made the family choose this form of education, which is unfamiliar to most people in Viet Nam?
According to the father, in 2014, Nhat Anh was punished by having to queue in front of the headmaster's office during break time with other 20 students for not doing their homework. He and his wife opposed the punishment because they thought it was not educational.
This was just one of many reasons for their decision. He found the curriculum was ridiculously heavy, and teachers assigned too much homework, which made his sons exhausted.
That year, Nhat Anh contracted a severe case of dengue fever, and he could not bear the school's curriculum burden any longer. "So we had to find another suitable studying method for Nhat Anh. It was homeschooling. And it was also his desire, the father told local media.
Like his brother, Thai Anh had also felt he was being treated unfairly by teachers, and was unhappy at school.
So the parents decided to teach both boys at home.
Risk for the future?
The father makes up timetables for their studying, entertainment, and home chores. But they are free to carry out the timetable any way they want. Both Thai Anh and Nhat Anh  are now studying for the International General Certificate of Secondary Education (IGCSE), an English-language programme developed by the University of Cambridge International Examinations.
Apart from academic knowledge, the boys also excel in English, with the younger brother having earned IELTS band 8.5 at the age of 13 and the older brother scoring 8.0 on the same test in 2015.
Quoc Anh's family is, in fact, not unique.
In recent years, other families have chosen homeschooling for their children for various reasons, the main one being disagreement with the school curricula.
Quoc Anh's choice has drawn approval by many parents and some educators who are seeking reforms in the system.
Educator Pham Toan said: "He [Quoc Anh] was a wise man. Because he did the best for his children." The important thing is for the parents to be involved in their children's study at home, he added.
Nguyen Quoc Huy, a father of two secondary school students in Ha Noi, said that if he were capable of teaching, he would have let his children study at home, too.
However, many parents and educators think homeschooling takes a risk with the children's future. They say homeschooling is costly, it takes up a lot of parents' time, and not all parents have sufficient knowledge to teach their children.
In Western countries, homeschooling has been an accepted method for a long time. In developed countries, such as the UK or US, homeschooled students can be certified at their levels by education authorities.
But in Viet Nam, the education style is not yet recognised. Families who choose it must be rich people to afford the tuition fees of universities abroad. Another objection raised by some is that if a child wants to stop learning at home, it will not be easy to integrate into school.
Many parents worry that learning at home might badly affect their children's communication skills.
According to Pham Lan Phuong, a mother of a 10th grade boy in Ha Noi, homeschooling may have an adverse effect on the children because they go to school not just to study, but also to communicate and compete with their fellows.
Prof Van Nhu Cuong expressed his views to the online newspaper Dantri.com.vn, saying that he does not know how many children are schooled at home in Viet Nam nor the results, but he thought the model was not suitable for Viet Nam at the moment.
There were few fathers like Quoc Anh who could quit job to teach their children at home, he said. Moreover, if children learn at home they may not be prepared for the future.
"I do not think it was a loss for my children to drop out of school for years because all things have two sides," Quoc Anh said. "I just want to help my children free their abilities and not to have them moulded into any fixed model," he said.
Chu Lan Huong
VNS