VietNamNet Bridge – An old story about the starfish has inspired Austrian investment bankers to set up a foundation to build schools for needy children in Viet Nam.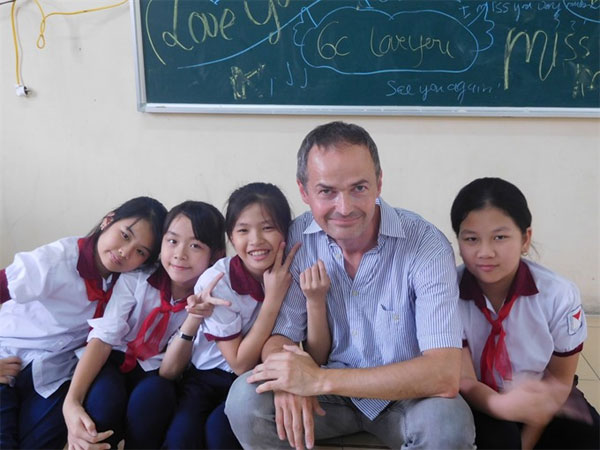 Inspired: Thomas Farthofer (second from right) with some students in Ha Noi's Pascal Secondary School in 2016.
The story says an elderly man saw a young man picking up starfish one by one and tossing each gently back into the ocean to prevent them from dying of exposure to the sun. The elderly man wondered why the young man spent so much time saving the starfish as there were thousands of starfish along miles of beach.
"You can't possibly make a difference" the elderly man said.
The young man bent down, picked up another starfish, threw it into the ocean past the breaking waves and said, "It made a difference for that one."
"Many people told me that in a country with 90 million people, five, ten or even 20 schools would not make any difference," Thomas Farthofer, founder of Sao Bien Room for Education, told Viet Nam News, "The starfish story explains that we can make a difference."
When he first arrived in Ha Noi as a volunteer in 2016, Farthofer found a lively and dynamic place.
The experience during his six-week volunteering stay inspired him, as people were so friendly and open, the positive spirit and the willingness to learn among the students so impressive that he decided to come back.
"In one of the last lessons with the students at Ha Noi University of Industry, I asked them to share their dreams and visions," Farthofer recalled, "They very openly did, and some of the students explained that their study would not be important, but necessary. Necessary to earn some money to help their hometowns."
"Their desires made me think about how I or we (from the so-called western world) could help."
Education, to him, was the most efficient way to break the cycle of poverty and change children's lives.
Almost a year after his decision to help, he doesn't have any regrets.
Farthofer was able to use the infrastructure and contacts of an Austrian-based non-profit organisation that he worked for to raise the initial money for Sao Bien. He managed to convince three NGO-experienced board members, based in Vienna, to deal with the financials, risk management and legal issues. He also got support from a social media consultant and several volunteers to help him create videos and do translations.
The organisation has worked with local partners to find suitable locations while Sao Bien has designed the schools.
"Every decision on a new school is only taken after a field trip to the potential site," he said, "We aim to achieve some geographical diversification, rather than just helping in one province."
The organisation has built three mini schools in remote areas in the northern provinces of Son La, Lai Chau and Ha Giang while a fourth school is being built in the northern province of Dien Bien.
"Our long term goal is to build at least four schools each year, beginning this year," he said.
Sao Bien has tried to raise money from different sources, like corporations and high net worth individuals as well as small donors, through crowdfunding campaigns. They have recently entered into an agreement with a French social enterprise which will donate part of their revenues to Sao Bien. They also are also planning charity events and approaching public organisations.
"Currently we have a stable and committed but small team," he said, "As the organisation grows, we will be happy to add more volunteers, but a lean organisation with minimal overhead costs is essential for successful implementation of the project."
Farthofer appreciates the honesty and hospitability of Vietnamese people and their willingness to help.
"I especially experienced that after my motorbike accident, which happened during a trip to Ha Giang when I was looking for a potential location for the next school," he said, "I had to walk on crutches for many weeks and the help I got from people I hardly knew was just amazing."
Truong Van Dong, headmaster of Pa U No 1 Boarding School for Ethnic Minority Students, said he was moved by Farthofer's and his friends' determination to build new classrooms and clean toilets for 29 students in Pha Bu Village, located 17km away from Muong Te District's centre.
"They did not mind travelling through soil paths, crossing streamlines and mountains to see how students study and locals live before deciding to build classrooms," he said.
He said that if people's knowledge is enhanced, locals' lives will be improved.
Nong Van Ngay, deputy chairman of Khau Vai Commune's People's Committee in the northern province of Ha Giang also lauded Sao Bien. The foundation has just completed two classrooms for 100 children at the local kindergarten and primary school and a room for teachers in Chu Lung Duoi Village.
"We have received lots of help from domestic charity teams," Ngay said, "But this time a foreign organisation comes to offer their help in buying materials while we get local help to build classrooms for children. It's like people sharing their kind hearts without borders."
Sao Bien will also set up a solar energy system in the newly built classrooms to facilitate education.
Farthofer said he did not have big expectations when beginning his charity.
"I really enjoy the work," he said, "I enjoy helping children and thinking about their better future due to Sao Bien's efforts is the best reward. Furthermore, this project gives me the opportunity to get in contact with and meet a lot of inspiring people that want to help, too."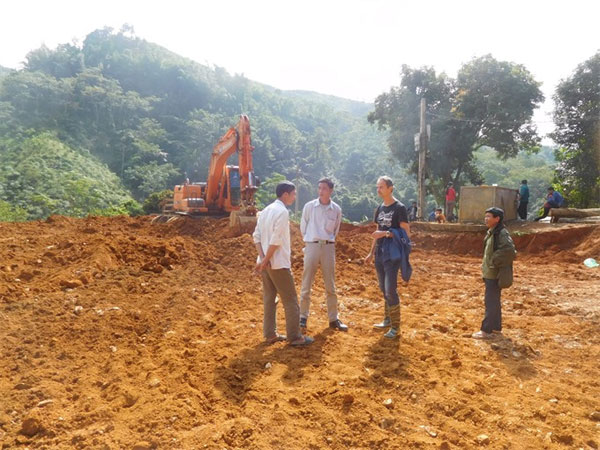 Hands on: Thomas Farthofer (second from right) at the construction site in Son La Province.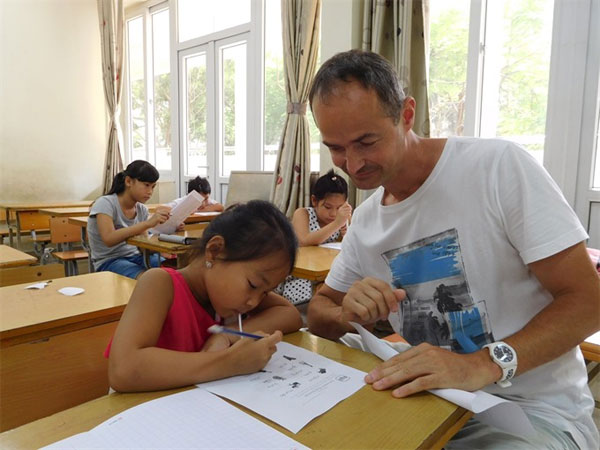 Education: Thomas Farthofer teaches English to Hanoian students when he worked as a volunteer in 2016.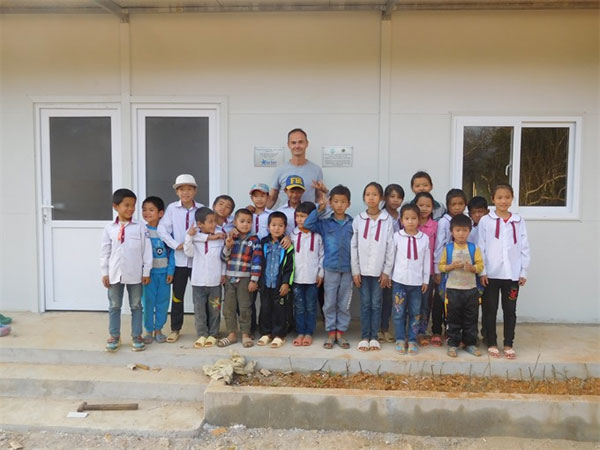 A hero: Thomas Farthofer (middle) poses for a photo with local students in Son La in front of the first class room project that Sao Bien Room for Education sponsored. — Courtesy Photos of Thomas Farthofer
Le Huong
VNS