VietNamNet Bridge - In Vietnam, only a few parents have chosen home schooling for their children.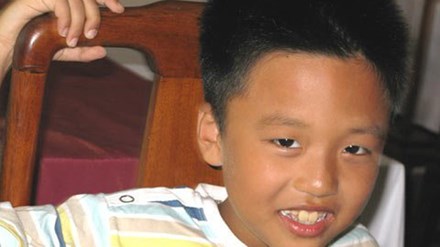 Vu Tuan Kiet
Five years ago, the public was stirred up by the appearance of Vu Tuan Kiet, a 9-year-old boy who did not go to school. 
At the age of 9, Kiet organized his first private exhibition in Hanoi. Forty-six black-and-white pictures with different themes, from animals, peoples, and natural phenomena to urbanization were displayed at the exhibition.
The boy was leading a peaceful life with 'uncle Tung' (Architect Pho Duc Tung), and focused on drawing, playing with dogs, and reading tales in English and Chinese.
In Vietnam, only a few parents have chosen home schooling for their children.
When asked why he did not like going to school, Kiet said he could not enjoy freedom at school. He was not allowed to draw at school, and he did not like the teacher of Vietnamese.
"I want to become a painter. I don't want to be a superman, because superman has to wear tight clothing," he said.
Bui Huy Kien in Long Bien district in Hanoi said he chose home school for his son because he wanted the boy to learn knowledge and skills useful for his future, rather than certain academic knowledge he won't use in his future life.
In 2015, the 13-year-old Bui Huy Khang, Kien's son was following a home-school curriculum originated from the US. Khang once went to school like other children, but he gave up studying after half a year.
"As we can control our learning schedule, we can go as fast as we want," he said. "The boy can go through two grades just within one year."
Two years ago, Bui Ha Uyen, 31, in HCMC, decided that her daughter would follow the 'home-school' education model.
Uyen said the biggest challenge for the parents who choose home-school model for children is that they have to spend time to study with children. 
Meanwhile, many parents can't do that because they are always too busy. 
Her husband decided to give up a full time job at a foreign company and become a freelancer to spend more time on educating the daughter.
The parents like Thanh (Kiet's mother), Kien and Uyen are called 'courageous parents' as they go the way that the majority of parents do not follow.
Thanh said she once felt worried about her choice, but she believes she made a good decision because her son feels happy with his life.
Unlike Kiet, his younger brother, likes going to school very much.