VietNamNet Bridge – Overlapping and poor co-ordination among vocational secondary schools or technical high schools continues to drain the State budget.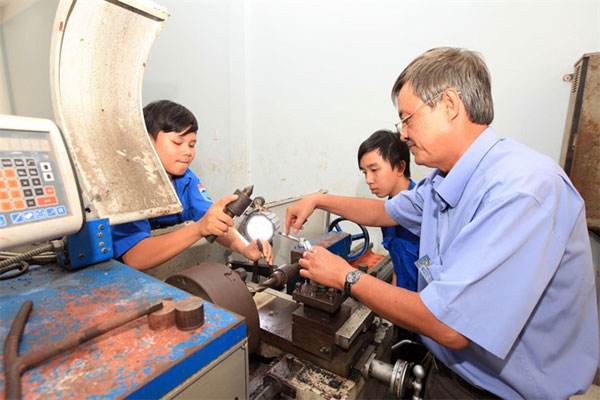 Trainees at Tay Ninh Vocational Training School attend a mechanical class. Overlapping and poor co-ordination among vocational secondary schools or technical high schools continues to drain the State budget.  
For many years, thousands of billion dong have been invested in many vocational secondary schools or technical high schools nationwide. However, many vocational training objectives have yet to be achieved.
In some localities, vocational secondary schools which were built and furbished with modern machines and equipment remain idle due to poor student enrollment
According to the Ministry of Labour, Invalids and Social Affairs, Ha Noi is known nation-wide for many achievements in vocational training, yet the enrollment in some facilities is very low.
Doan Quoc Hung, deputy director of the Thang Long Transport Vocational Secondary School, said "due to the low percentage of students' enrollment, quite a few teaching facilities in the school remain idle. In some cases, we have to lend them to other vocational institutions".
Hung also admitted that quite a few teaching staff in his school have quit their jobs.
Similarly, in 2016, the vocational training centre in Ha Noi's inner district of Hai Ba Trung saw fewer than 100 students enroll in short training courses there.
Comprehensive review
Dao Ngoc Dung, Minister of Labour, Invalids and Social Affairs, frankly admitted that a key reason for the situation is poor planning.
"They have built vocational schools without conducting a survey of the market demand, while the work of equipment procurement has failed to meet the actual needs of the country. This poor planning is the key reason for the present problems of the country's vocational training institutions", Dung said.
Do Manh Hung, former Vice Chairman of the National Assembly's Committee for Social Affairs, also blamed the situation on poor management – ranging from the planning work to capital allocation, investment approval and management activities following the projects' acceptance ceremony.
Hung said that some localities already home to some vocational schools continue to submit proposals asking to build new vocational schools.
"This is one way to waste public money", Hung added.
In his opinion, all localities must  review what occupations needed to open for training to cater the needs of their localities.
In addition, Hung said, such management agencies must do the last screening before making the final decisions to open the vocation training centres and procure teaching and learning equipment in these centres.
Minister Dung said in 2017, the labour ministry will launch a comprehensive review of all existing vocational schools nationwide to determine the strengths or weaknesses of these schools and plans for the coming years.
He said "following the inventory, the ministry will come up with specific plans to revamp the vocational training system nation-wide".
He ordered all localities to review and make a list of what equipment they already have, but have not been used, and what they desperately need so that his ministry will make an adjustment between localities/ provinces.
"This is a good way to make the best use of our available resources," Dung emphasised.
According to an inter ministerial circular between the Ministry of Home Affairs, the Ministry of Labour, Invalids and Social Affairs and the Ministry of Education and Training, all poor vocational training schools/institutions will be given a certain time to revamp. Following that period, if there is no improvement, they will have to close. Meanwhile, the circular encourages the development of private vocational training centres in rural areas to meet local needs.
In the long run, the circular called on concerned agencies to sit together to discuss and develop a set of standards on vocational education based on international standards. 
VNS