VietNamNet Bridge - More and more big investors are pouring money into the education sector, which is seen as profitable and safe.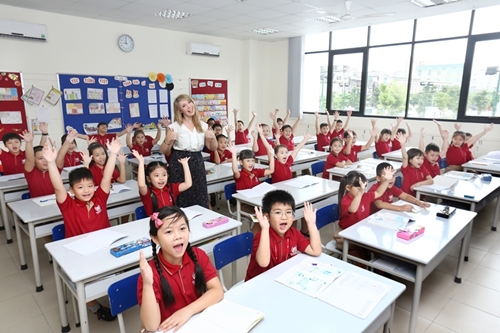 In early 2017, TH Group, a dairy producer, officially put its school system into operation. 
Students can study at TH schools from two years old until they finish high school. The school built on the 18,500 square meters is the first phase of a plan to develop the school system all over the country.
If the school receives 2,090 students as planned, it would have total revenue of VND900 billion. The minimum tuition is between VND230 million and VND520 million per annum, depending on education levels. 
More and more big investors are pouring money into the education sector, which is seen as profitable and safe.
The tuition will cover all kinds of expenses, from material facilities, admission fees, uniforms and extracurricular activities. 

An analyst commented that the revenue would multiply rapidly in the time to come, when TH Group completes the project on the university-junior college complex development and builds at least one school in every city and province.

The fact that TH Group has jumped into the educational sector has surprised many analysts, because TH is known as a dairy and clean food brand. 

However, analysts commented that TH has every reason to eye the educational sector in its multi-field development plan.

Prior to that, electronics, telecommunication and real estate firms also injected trillions of dong into education projects. 

FPT, the largest information technology group, pioneered in investing in the educational sector when it set up a university in 2006, the first school belonging to an enterprise in Vietnam. 

After more than 10 years of operation, FPT Education has eight institutes and member schools.

The 2016 annual report showed that the group's net turnover from education and investment was VND1.749 trillion, an increase of 94.5 percent over the year before, accounting for 4.4 percent of the group's total turnover. 

The pre-tax profit last year was VND1.288 trillion, a decrease of VND600 billion.

It is expected that revenue from education would increase slightly this year, while pre-tax profit would decrease significantly by 42.4 billion, the sharpest decrease among the group's four major business fields. 

FPT plans higher investments in new education establishments. Roughly VND200 billion would be disbursed in 2017, or seven times higher than in previous years.

Vingroup, a big real estate developer, only began investing in education in 2013 with its Vinschool system, but has gained impressive growth. The education sector makes up 1.2 percent of the group's total revenue. 

By the end of 2016, the group had seven schools for different education levels, from preschool to high school. The tuition is VND33-56 million per annum, not including meals, uniforms and books.
RELATED NEWS
Private education market brings high profits
Private schools avoid punishing students
Thanh Lich