VietNamNet Bridge – Minister of Education and Training Phung Xuan Nha on Thursday instructed universities to develop their brand by improving training programmes that will attract students.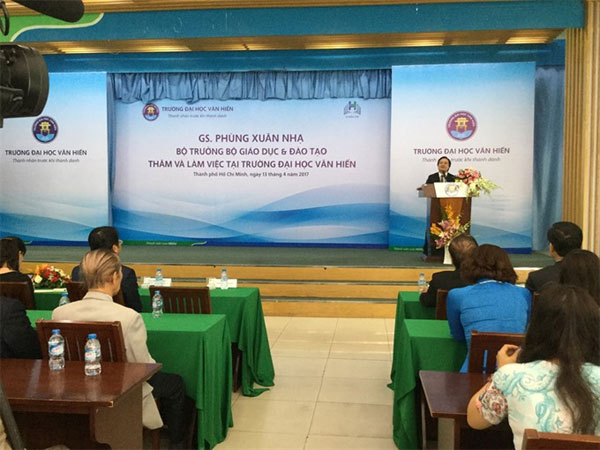 Minister of Education and Training Phung Xuan Nha, during a visit to Van Hien University in HCM City, encouraged all universities to enhance their brandname by improving quality. — Photo: VNS
At a meeting with leaders, staff and students of the private Van Hien University in HCM City, Nha said that many private universities were facing difficulties in enrollment.
Only Van Hien University and a few more had attracted more students, because of their training quality and good brand name, he said.
Students enrolled in these universities are more likely to be recruited by local enterprises or work in member countries of the ASEAN Economic Community, Nha said.
The country's tertiary education has seen progress, especially in IT, but low quality remains in several majors.
Vu Thi Thu Huong, a lecturer at Van Hien University's Tourism Faculty, said that some enterprises do not want to recruit graduates from private universities.
Nha said that low quality and a failure to meet enterprises' demands at a number of private universities were the main reasons for the lack of recruitment.
"Quality is a decisive element in competition," he added.
To reach a higher quality, universities should increase investment and have strategies to develop facilities, lecturers and training programmes, he said.
Van Hien University, for instance, has received investment for facilities that will cover a total area of more than 85,000 square metres.
In the 2017 and 2018 academic year, the university's other branch will be put into operation in the city's southern region.
Nha said the university's investors should also pour money into more facilities for teaching.
As of now, many of the 60 private universities in the country have to rent facilities, he said.
Before investing in construction at universities, investors should prepare sufficient capital for long-term operations, Nha said. "They should not be dependent on students' tuition" for long-term operations.
The Government has issued many preferential policies for investors in private universities, including tax exemption of income in first four years and 50 per cent exemption in the following five or nine years, he said.
Nha said that universities "should stand firm" on training students well and conducting scientific research that can be applied to new products and technologies. 
VNS