VietNamNet Bridge – A draft of a new general education programme was introduced by the Ministry of Education and Training (MoET) at a meeting with the press in Ha Noi on Wednesday, with one of the aims of the programme being to instil a love for Viet Nam in students.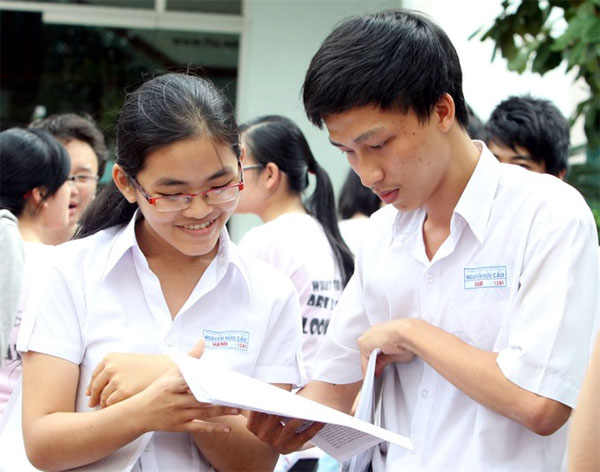 Students discuss the English test of the 2011 university entrance exam at the HCM City Foreign Trade University. — Photo: VNA/VNS
The programme was developed using the back-mapping technique to design a programme suitable for students' capabilities, said Prof Dr Nguyen Minh Thuyet, editor-in-chief of the programme at the meeting.
Aiming to reduce pressure on students, the programme focuses on developing integrated elementary and lower secondary education (grades 1-9), and a differential and elective upper secondary education (grades 10-12), he said.
The programme's subject system is divided into compulsory courses, differential compulsory courses, electives and compulsory electives, he added.
The 10th grade is identified as a career orientation grade with 11 compulsory courses, he said. These courses are reduced to 6 in grades 11-12 so that students can choose electives that complement their career choices.
The programme aims to develop various qualities in students, including loving one's country, one's people, studying and working hard, honesty and responsibility, he said.
It also aims to develop three general core competencies in students, including self-control and self-learning, communication and collaboration, and problem-solving and creativity, and core competencies in languages, mathematics, social science and natural science research, technology, computer science, aesthetics and physical capacity.
Schools will be encouraged to apply active learning methods with teachers in the role of a co-ordinator, instructing and encouraging students to take part in educational and capability-developing activities.
These activities will be held inside and outside of classrooms as theoretical lectures, experiments, role plays, research projects, conferences and picnics, as well as collective and community service activities.
Three evaluation methods were proposed in the programme, including regular assessments (conducted by teachers), periodical assessments (conducted by schools), and local and nationwide assessments (conducted by accreditation organisations at national and provincial levels).
Speaking at the meeting, Deputy Education Minister Nguyen Thi Nghia said the draft will be published on the internet to receive comments from society.
Necessary changes will be added to the draft before it is presented to a national appraisal board and officially implemented in the 2018-19 school year, in accordance with Degree No 88 issued by the National Assembly in 2013, she said.
The leader said that the MoET will develop new ways to assess students for high school graduation once the programme is implemented.
The current high school graduation exams will be maintained until 2020, she said. 
List of compulsory courses from elementary to upper secondary education
The compulsory courses for elementary students (grades 1-5) include: Vietnamese, mathematics, foreign language No 1, lifestyle education, life around us, societal exploration, scientific exploration, and technological exploration. The foreign language No 1 course starts at grade 3, but localities with enough capabilities can start at grade 1 with less than 70 lessons per year.
The compulsory courses for secondary students (grade 1-9) include: literature, mathematics, foreign language No 1, civil education, natural sciences, history and geography.
The compulsory courses for grade 10 (the first grade of upper secondary education) include: literature, mathematics, foreign language No 1, economic and legal education, history, geography, physics, chemistry, biology, design and technology, and defence and security education.
The compulsory courses for grade 11-12 include: literature, mathematics, foreign language No 1, physical education, defence and security education, and creative experiences. In addition, each student chooses to take three of the following electives: economic and legal education, history, geography, physics, chemistry, biology, computer science, applied information technology, design and technology, fine arts, and music.
VNS