Vietnam is keen to develop education cooperation with the US and particularly the Harvard University.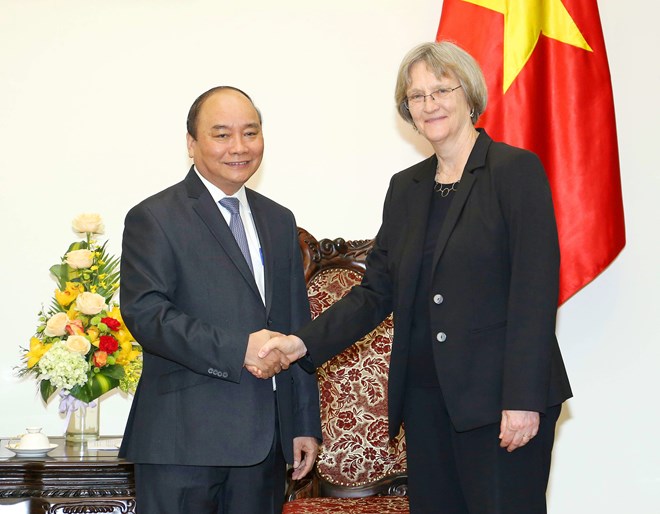 Prime Minister Nguyen Xuan Phuc (L) ​welcomes President of the Harvard University Drew Gilpin Faust
Prime Minister Nguyen Xuan Phuc made the remark at a reception for President of the Harvard University Drew Gilpin Faust in Hanoi on March 24.
He took this occasion to thank Harvard for supporting and coordinating with Vietnam to successfully organize the Vietnam Executive Leadership Program (VELP).
The PM underlined educational reform and improvements to education-training quality as one of the crucial factors to develop a country.
He, therefore, asked the Harvard University to continue supporting Vietnam with leadership training and tertiary administration, and opening training courses for Vietnam's senior officials.
Regarding the VELP, the PM proposed Harvard provide more support and strengthen coordination with Vietnam to seek financial resources to maintain the program, while increasing the number of Vietnamese students to pursue learning at the university in the time ahead.
Faust said she hoped the curriculum at the Fulbright University Vietnam (FUV) will become a cooperation model connecting Vietnamese and US scholars and researchers.
Both Vietnam and the US pay much attention to education, which could help the two countries deal with challenges that they are encountering, she said, stressing that there are numerous cooperation opportunities for Vietnam and Harvard.
She said the university is expanding collaboration activities with Vietnamese peers, including medical ones, and pledged to support and promote the implementation of the FUV project in Vietnam.
VNA