VietNamNet Bridge - The Vietnamese online education market has high potential with an estimated value of billions of dollars, but many barriers exist.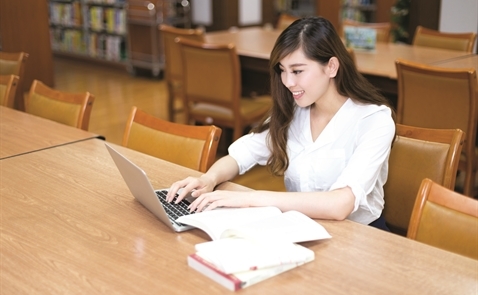 According to Nguyen Thanh Nam, the founder of FUNiX, of FPT Education, investors first set up e-learning models such as Violet.vn, hocmai.vn and TOPICA prior to 2010.
In 2012, the Ministry of Education and Training (MOET) activated the virtual university system. However, it has not left a strong impression on the market.
In August 2013, GiapSchool became the first unit that opened MOOC (Massive Online Open Courses), providing training courses in many fields. 
About two years later, FPT, Vietnam's largest information technology group, joined the market with another MOOC project, named FUNiX.
According to Nguyen Tri Hien, an online education expert, by 2016, Vietnam had 150 startups in online education sector which provide education programs on different subjects.
The Vietnamese online education market has high potential with an estimated value of billions of dollars, but many barriers exist.
The online education market is promising with 40 percent of population accessing the internet. Most of them are young and have high demand for learning. 

Every year, Vietnamese spend $3-4 billion to fund their children's study overseas. An analyst estimates that the market is valued at no less than $2 billion and has revenue growth rate of 40 percent per annum.

Vietnam is an attractive online education market not only for domestic, but also for foreign investors, especially from Asia, such as Japan, South Korea and Singapore.

In developing countries, online education brings great opportunities to accelerate education reform, thus helping improve the quality of the labor force for economic growth and social development. 

While Vietnam's education has been proceeding too slowly with reform, online training can help speed up the renovation.

According to Hien, five education establishments are leading the market, Topica, FUNiX, Kyna, Tienganh123 và eGroup.  However, there are still many barriers that hinder development. 

In 2016, the total investment capital poured into technology-based education startups was $8 billion worldwide. 

Vietnam, by the end of 2016, had 309 projects with registered capital of $767 million in total. However, according to Topica Founder Institute, 67 startups received investments in 2015, and 3-4 of them were online education organizations. 

In 2016, only Kyna.vn (named as Delta Vietnam in the past), which provided training courses on soft skills and professionals, could receive investment from CyberAgent Ventures.

In Vietnam, like many other technology projects, online education firms have been developing in an unplanned way. Therefore, the quality of the education services remains questionable.
RELATED NEWS
Vietnamese, Singaporean education providers partner in e-learning
Online education market flourishing in VN
Kim Chi