VietNamNet Bridge – It was an endearing sight – a little boy accompanying his mother as she walked the streets, picking up trash.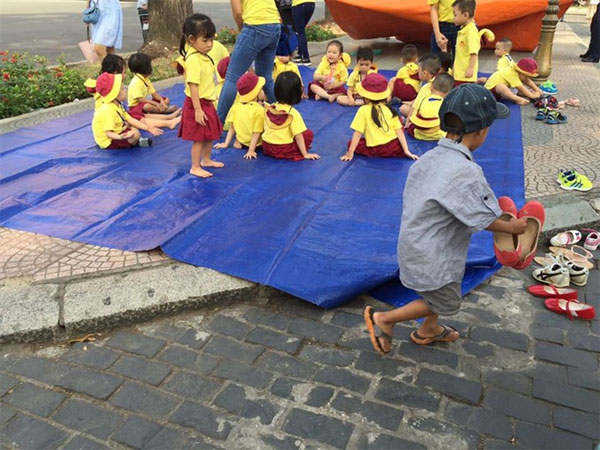 Slowly, the little boy started arranging all the shoes in a neat row around the edge of the blanket. — Photo Courtesy of Nghia Pham
When photographer Nghia Pham spotted them near the city post office, he decided to follow them at a distance and take a few pictures.
He was curious to see the boy's reaction as they passed a group of children of his age being taken out by their kindergarten teachers to play outdoors.
All the children were wearing nice, clean uniforms and shoes. The garbage-picker's son, tanned by walking the streets in the sun, was wearing oversized flip-flops, a baggy, rumpled shirt and an old cap on his head.
As the teachers laid out a plastic sheet to arrange a picnic, all the children took off their shoes and sandals and got on to it. The garbage-picker's son looked at the group from a distance.
Nghia did not expect to see what happened next.
The poor boy got closer to where the other children were, and slowly started arranging all the shoes in a neat row around the edge of the blanket.
After he was done, the little boy stopped for a while, standing in front of the neatly-arranged row of shoes with a smile on his face, and then returned to his mother who was standing nearby. Hand in hand, the mother and son continued their walk.
They were not aware that they were being watched.
When Nghia posted the pictures he took on his Facebook page, they had an immediate impact.
Moved by the simple, spontaneous act of an innocent boy, readers shared the photographs and comments, and the images travelled far and wide.
Media outlets quickly got into the act and contacted the photographer.
"It was such a nice thing to do, and even though it's a small act, it gives us a lot of thought," he told a local radio channel.
"The boy might be poor and can't go to school, but he acts in such a civilised manner. That's what makes us think; and admire him," he added
Nghia later learned that the boy's name was Nguyen Danh Thanh Dat. Nguyen Phuong Linh, Dat's mother, used to work in a factory, but just lost the job recently.
"When I still had the job, Dat also went to a kindergarten. The teachers must have taught him about being tidy and neat, because he remembers it all," she said.
"We don't have many clothes, but he would always arrange his clothes neatly – which are for bed time and which are for going out to collect trash with me. And he even washes his own dishes," she said.
When Linh lost her job, Dat had to quit the kindergarten. He was very sad.
"He cried a lot when I told him we don't have enough money for him to go to school," Linh said.
Linh herself was an orphan and was brought up by an old, kind-hearted couple in Quang Ngai Province. She got divorced five years ago, when Dat was just a month old.
"At that time, life was so hard, and I was so desperate I even wanted to send Dat to an orphanage," she said.
But when they got there, she just couldn't do it. She said she couldn't make him another orphan, just like her.
"I had to be with him no matter what happened," Linh said.
Striking chords
When pictures of the mother and child went viral, many people wanted to support them financially. But money was not what Linh wanted.
"A friend of mine went to interview her and offered her some money, Linh decently refused and she said she could work and earn money herself," Nghia said.
Then the 'miracle' happened: the country's biggest dairy firm decided to give Linh a job, and two local primary schools contacted Nghia and offered Dat free admission.
And when Nghia took Dat and Linh to the Children Hospital in Binh Chanh District for health check-ups before Dat returned to school, doctors there recognised them and provided their services for free.
The doctors found Dat suffering from severe malnutrition, needing food supplements every day, and his mother's employers said they would also supply the milk he needs for free.
A pure act of kindness can reap a windfall of goodness. 
VNS