Nine teams, including 50 students from seven universities in Viet Nam, will participate in the Shell Eco-Marathon Asia 2017 – Make the Future Singapore 2017, to take place in Singapore from March 16-19.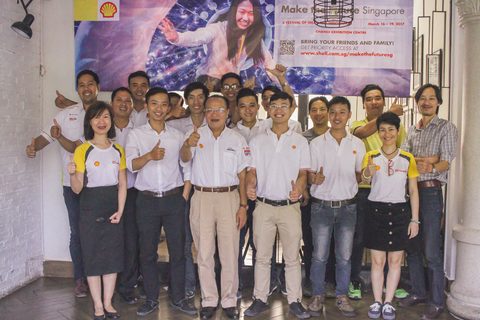 Shell Vietnam's leaders take a picture with students who will join the competition next week. 
Oranised for the first time in Singapore, the competition challenges students from 120 teams from countries and territories in Asia and the Middle East to push the boundaries of energy efficiency on the road.
The competition, in which students test vehicles they have designed and built themselves, aims to inspire young people to become future scientists and engineers.
Participating in the four-day competition, students are expected to understand the urgency of powering the world and exploring the regional progress of renewable energy, natural gas and low-carbon technologies, among other new energy solutions.
Trần Hồng Vân, general manager of Shell Vietnam, said: "To generate more energy while producing less CO2 emissions is not only a challenge for Việt Nam but also for the rest of the globe. Through the competition, we hope to see bright ideas put into action, unlocking the potential of an entire region and working together to turn that potential into tangible solutions for Việt Nam, Asia and the world."
Viet Nam is the second largest country for motorbike sales in the world. About 45 million vehicles, with the number expected to increase to 60 million by 2020, contribute about 80 per cent of CO2 emissions in the country each year. 
VNS