Physical education is considered as important as academic education, but the role of physical education is limited in many schools, showing the need for more investment in infrastructure and manpower in the field.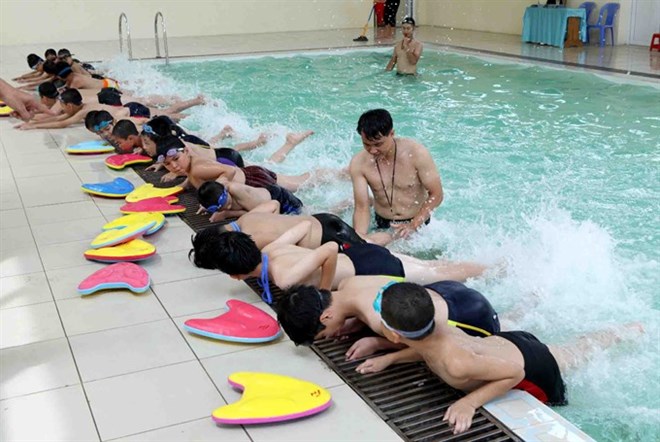 Students at Dong My Primary School in Hanoi's Thanh Tri district attend a swimming lesson
Incomplete statistics from the Ministry of Education and Training (MoET) showed that 95 percent of schools nationwide had physical training in their curriculum, and 75 percent of the schools organised sports as extracurricular activities. The activities attracted about 70 percent of the 15 million students across the country.
But many schools lack infrastructure for physical training and sports extracurricular activities.
A joint circular from the MoET and the Ministry of Health, issued in 2011, regulated that areas for playing and physical training must occupy 40-50 percent of a school's total area.
But in fact, only about seven percent of schools in the country have a sports hall, 15 percent have sports grounds, and no more than one percent have swimming pools.
In Hanoi, while most state schools have playgrounds for students, many private schools do not have enough room for the activities as they have to rent space for classrooms. About one third of private schools have playgrounds.
On the other side of the coin, research from Ha Noi Moi (New Hanoi) newspaper showed that in some districts in Hanoi, local authorities pay much attention to physical education.
Thanh Tri District spent large amount of funds to build swimming pools for students in 15 out of 16 communes, while Thanh Xuan District set up mobile swimming pools for students and the Sai Dong Residential Zone's Primary School in Long Bien District teaches its students swimming at the district's sports centre every Monday.
More and more children have taken up Taekwondo recently, and it is taught in some schools in Tay Ho and Nam Tu Liem districts. Some schools in Cau Giay, Hai Ba Trung and Ba Dinh districts hold basketball training for students.
In a conference with the MoET at the end of February, Deputy Prime Minister Vu Duc Dam said that physical education must be equal with academics, and teaching and studying methods must be changed to keep it interesting.
Assessing the quality of physical training and sports training must be based on students' capacity and enjoyment, and investment must be suitable to reality, said the Deputy PM.
Academic education and physical education are the two most important duties of the education and training sector, which was shown in Resolution 29-NQ/TW and Decision 1076/QĐ-TTg issued in 2016.
Experts from the MoET said that under the project developing physical training and sports in schools in 2016-20 with a vision to 2025, students could select one sport to play from grade 1. Two periods a week should be spent on physical education.
To have better training quality, students are divided into groups based on their physical condition, with the weak divided from the strong.
Canh Bach Yen, principal of the Vietnam-Algeria Junior Secondary School in Thanh Xuan District said that besides two periods of physical training per week, the school ran sports clubs for students.
The school planned to build a football ground and a basketball court for the students with funds contributed by the school's teachers, she said.
To resolve the shortage of manpower for physical training at schools, the MoET will check physical training teachers at schools, and then give guidance to schools and sports training schools.
The project on developing manpower for the education sector from now until 2020 said that each year, the sector needed 460 teachers for physical training, and most of them should work in primary schools. 
VNA