VietNamNet Bridge – The Ministry of Education and Training will soon officially ask that schools nationwide review their facilities and stop using any deemed to be unsafe, according to the vice head of the ministry's Department of Facilities and School Equipment, Pham Hung Anh.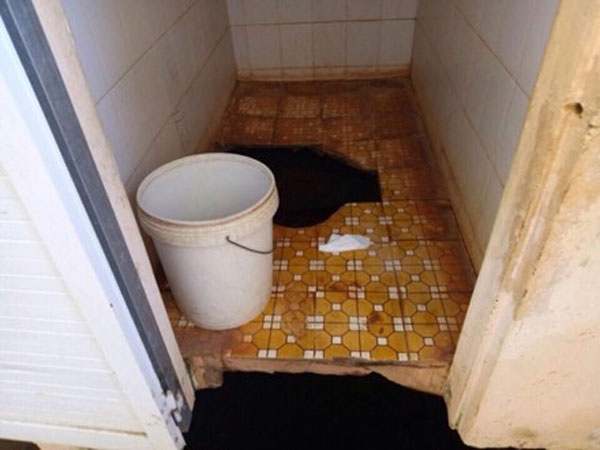 The toilet at Krong Na Kindergarten in the Central Highlands' province of Dak Lak collapsed last week, causing injuries to a student.
The move was made following an accident at a kindergarten in the Central Highlands' province of Dak Lak in which a 5-year-old boy suffered from head injuries when the floor collapsed under the toilet he was using.
The boy was sitting on the toilet at his school – Krong Na Kindergarten - when it suddenly sank. He fell five metres and cracked his skull and pelvis as rocks and bricks rained down on him.
Hung Anh told Tuoi tre (Youth) newspaper that almost all schools across the country had toilets that met standards issued by the Ministry of Science ad Technology and the Ministry of Education and Training.
However, he said that many schools had installed temporary toilets.
Some school toilets failed to meet standards, as the schools were converted from other buildings, he said.
The kindergarten in Dak Lak that prompted the review was one of the converted schools, he said.
"The conversion was made to save money, especially as the education sector faces shortages in funding to develop school facilities," he said.
"The conversion must be controlled and overseen more closely to ensure the effectiveness and safety of the work," he said.
Pham Dang Khoa, director of the Dak Lak Province's Education Department said that 30 per cent of toilets at kindergartens in the province were built 20 or 30 years ago.
The old toilets were in poor condition but the province had failed to provide sufficient funding for repairs, Khoa said.
Each year, the province gave the education sector about VND800 billion (US$35.2 million). Around VND1.2-1.7 billion was spent on building new toilets.
Kpa Y Khoa, father of a second grader in the province's Buon Ma Thuot City said that he was worried to see his child studying in old and degraded classrooms.
Khoa and other families had donated funds to repair the classrooms, he said, asking schools to report the problems to the provincial People's Committee.
However, the long-standing problems had not been addressed, he said.
VNS