VietNamNet Bridge - Vietnam has vowed to improve students' English skills by pouring trillions of dong into English teaching programs, but the majority of university graduates cannot communicate in English.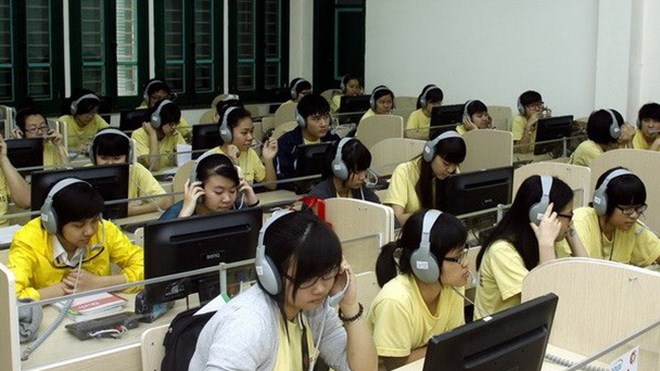 The high percentage of students lacking basic and professional English skills is one of the biggest problems of Vietnam's university education. 
A survey conducted of 18 universities in Vietnam found that first-year students can get 220-245 score out of 990 TOEIC scores. This means that students would need 360 teaching hours more, or 480 periods to obtain 450-500 TOEIC score, the minimum score candidates need to be shortlisted by employers.
However, MOET found that schools only arrange 225 English periods for students,  which is not enough for students to practice all four basic skills.
According to MOLISA, Vietnam produces 400,000 university graduates every year, but six out of 10 graduates lack working skills and English skills. 
Most graduates cannot communicate in foreign languages because of the lack of basic knowledge about words and sentences.
Vietnam produces 400,000 university graduates every year, but six out of 10 graduates lack working skills and English skills. 
A research project of the World Bank showed that the lack of English skills and soft skills made Vietnamese candidates less attractive at interviews. This is one of the reasons behind the high unemployment rate of bachelor's degree graduates.

Though Vietnam is aware of the weaknesses and has spent big money to fix the problem, the situation has not improved. 

After eight years of implementing the VND9.4 trillion national program on teaching and learning foreign languages in the national educational system in 2008-2020, Vietnam cannot reach its goals.

In 2016, Vietnam had 1.6 million students in third, fourth and fifth grades out of total 7.8 million students (20 percent) could learn English for four periods a week. 

The other students had two periods of English each week. It was still far from the goal that 100 percent of third graders could approach the 10-year learning program.

This is partially attributed to the lack of teachers of English. Only 33 percent of secondary school teachers and 26 percent of high school teachers meet standards. The percentage of standard teachers is much lower in some provinces. 

Minister of Education and Training Phung Xuan Nha admitted before the National Assembly on November 16 that the national program on teaching foreign languages had failed.

In November 2014, the public was stirred up by the letter from a Vietnamese girl in Nepal to the MOET Minister, who was then Pham Vu Luan.

Linh, the girl, commented that the teaching of English in Nepal was not professional, because it did not have much money to buy TVs, cassettes and dictionaries. However, she believed that Nepali students' English skills were better than Vietnamese, though Nepal is a poor country.
Chi Nam