VietNamNet Bridge - As there are many adverse factors in society, many Vietnamese parents tend to protect their children in unreasonable ways.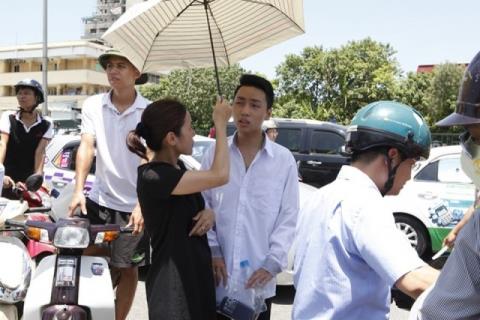 For example, a high school in Hanoi organized a picnic for its students. M, the tour guide, who led the students to Hoa Binh province, was surprised when a 7-seater BMW with two security guards and one secretary inside appeared. The secretary said they represented the family which had a daughter joining the trip. 
The parents of the girl feared that their daughter may face risks during the trip and they sent the security guards and secretary to accompany the girl to support her in case of an emergency.
The girl sat in a coach with her friends. However, sometimes, when crossing slopes, she shifted from the coach to the BMW to be sure she would be safe.
The girl did not eat local food or the dishes prepared by the students themselves at cooking competitions. She only ate the food prepared by the secretary with the materials brought from Hanoi.
Nguyen The Long, a training expert from Youth Development Corporation, an institution specializing in training life skills, noted that overindulging and overprotecting children is a problem of Asian parents.  
He said Vietnamese parents worry too much about the problems their children may have. If they overindulge and overprotect children, the children will become dependent on parents and cannot do things themselves. 
"A child is just like a young tree. It needs air, sun and some wind to challenge itself," he said.
As there are many adverse factors in society, many Vietnamese parents tend to protect their children in unreasonable ways. 
Long said that he knows many students who suffer from psychological trauma because of the parents' overindulging behavior. 
The parents of D, a female student now studying in Germany, came to see Long and asked for help as they had difficulty understanding their daughter and communicating with her.
The parents were disappointed as their daughter did not know what she wanted orneeded to do.
In childhood, D did not have to do anything because the parents arranged everything for her. Therefore, in Germany, D had difficulties as she could not arrange her study and life.
Trinh Minh Cuong, a guitar tutor, said he could not understand why parents, not children, call him to inform about absence from lessons.
"This is something that can be done by a secondary school student," Cuong said. 
However, when Cuong asked his student why he did not call, the student said that his mother wanted to do it because the student was too busy with his studies. 
Le Bi