VietNamNet Bridge – Vietnamese school students have won top prizes at the Australian Mathematics Competition (AMC) and the Australia Intermediate Mathematics Olympiad (AIMO). It is the first time Viet Nam participated in the competitions.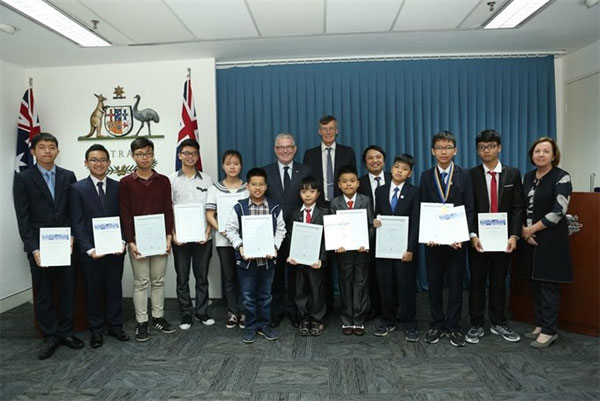 Vietnamese prize winners of Australian mathematics competition were honoured at a ceremony held on Tuesday. — Photo courtesy Australian Embassy
A ceremony was held yesterday at the Austrian Embassy in Ha Noi to honour the prize-winners.
The AMC is one of the world's largest school-based mathematics competitions with more than 14 million entries from over 30 countries since its inaugural year in 1978.
Vietnamese students achieved outstanding results at this year's AMC competition with eight prize-winners, including one junior medallist and one perfect scorer.
AMC Year-7 medallist Nguyen Manh Quan from Ha Noi-Amsterdam High School was ranked fourth for the Year-7 worldwide and ranked seventh in the world's Junior category after getting 130/135 scores.
The AMC was held in Viet Nam in July and attracted 1,234 students from 16 cities and provinces.
Separately, the first local sitting of the AIMO at Cau Giay Lower Secondary School in September had 467 entries. There were four prize winners (out of 41 prize-winners worldwide). Fifteen students received High Distinction.
For the Vietnamese participants, solving unfamiliar maths problems in English posed difficult but exciting challenges. The competitions provide a different perspective on mathematics education to the way maths is generally taught in Viet Nam, with a greater emphasis on critical thinking rather than pure mathematics skills. This alternative approach aligns with the government's education reform priorities to radically renovate the teaching and learning methods.
Australian Ambassador to Viet Nam Craig Chittick said this was a great outcome for Viet Nam's first year in both competitions.
"Viet Nam is well-known for the value it places on education and striving for academic achievement. Vietnamese students are highly regarded in Australia for their hard work and commitment," he said.
"I am personally excited with the Vietnamese Government's textbook and assessment reforms, the emphasis on applying more enquiry-based learning, and for teaching maths and science in English. In today's global economy, students need to do more than just regurgitate knowledge. They need to be open to new ways of thinking and to develop good communication and analytical skills," he added.
Next year's AMC will be held on July 27 and the AIMO on September 12.
VNS