VietNamNet Bridge - Vietnam has more than 130,000 students studying abroad, while only 2,000 foreign students are studying in Vietnam.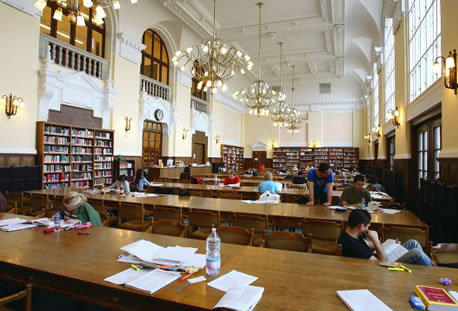 The information was released at the Vietnam-Europe Higher Education Forum held in Hanoi on November 3 by the Ministry of Education and Training (MOET) which included representatives from 80 Vietnamese and foreign university establishments and diplomatic agencies.
Tran Anh Tuan, deputy director of  MOET's University Education Department, said the number of universities in Vietnam has been increasing rapidly. Vietnam had 100 schools in 1997, while it has around 400 schools now.
Tuan said Vietnam endeavors to change four issues related to higher education – upgrading training quality, giving autonomy to schools, conducting school accreditation and improving scientific research. 
"To upgrade the training quality, MOET is carrying out reform in curricula. We are also applying training programs with support from foreign organizations. Vietnam has 35 advanced programs used at universities," Tuan said. 
Vietnam has more than 130,000 students studying abroad, while only 2,000 foreign students are studying in Vietnam. 
In 2015, Vietnam exchanged 135,000 students, most of whom went abroad under the self-supporting mode.
The report the government submitted to the National Assembly on October 18 showed that 130,000 Vietnamese citizens now live and study overseas.
Of these, 38,000 students, or 29.2 percent of overseas students, study in Japan. 
Meanwhile, 31,000 students are in Australia, which account for 23.8 percent of total overseas students. The US is also one of the favorite destinations for Vietnamese students: 28,000 students, or 21.5 percent, are studying there.
The other destinations include China, where 13,000 students, or 10 percent, are studying, and the UK with 11,000 students, or 8.4 percent.
According to MOET, 5,519 students now study in 44 countries with funding from the State. These include 2,501 PhDs, 580 Mas, 63 trainees and 2,375 university students.
The number of scholarships granted by other countries to Vietnamese students is on the rise. Hungary, for example, grants 100 scholarships in 2016 instead of five in the past, while Russia 800 scholarships instead of 400, and the figure is expected to rise to 1,000 by 2018.
The US Consulate General in HCM City Rena Bitter said Vietnam tops South East Asian countries in the number of students studying in the US, with 19,000 students in 2015.
Dam Quang Minh, rector of the FPT University, commented that considering education as a business field, Vietnam now has a trade gap in education. Vietnam sends 130,000 students abroad, but it receives only 2,000 foreign students.
"This shows that Vietnam's education still has not integrated into the world," Minh said.
FPT University receives about 700 international students every year in exchange programs, and 100 students taking full-time training courses.
Mai Chi