VietNamNet Bridge - "If students are not punished for their bad behavior, everything will get out of control. But if you punish students, you will be criticized by parents. If you give a scolding to students, you will be accused of causing offence," a teacher complained.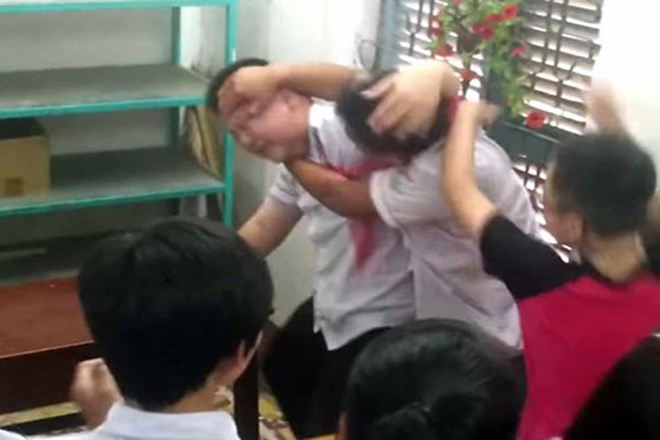 When the school day ended on October 12, a parent was seen repeatedly slapping a teacher's face at the Duc Tri Primary & Secondary School in Da Nang City. 
The parent was Le Thi Cuc, who said she did this because her daughter, a third grader, received a slap from a teacher of the school and the girl's cheek had been scratched. 
Cuc is a chemistry teacher at the Ngo Quyen School in the city.
However, the beaten teacher was not the one who slapped the girl's face. Another teacher, named Oanh, later admitted that she accidentally caused a scratch on the girl's cheek because of the long fingernail.
Psychologists insist that giving scoldings is not the appropriate education method in modern times.
Finally, Cuc, the parent, was forced to pay VND7 million for her behavior, while Oanh, the teacher who caused the scratch, was fined VND5 million.
A high-school teacher in Hanoi commented that being a teacher is a 'dangerous job'. 
"You will receive violent criticism and be sacked if you lose your temper sometimes and scold your students," he said. "Students in modern times have too much power."
"Parents may come to school and strike teachers just because they doubt their children are abused at school. And they may make a fuss if their children are reprimanded," he continued.
A primary school teacher in Hai Ba Trung district in Hanoi said a colleague of hers one day threatened students that she would lash students' mouths if they have private talk in class. 
A student reported this to her parents and the parents came to see the school's headmaster, accusing the teacher of beating her child.
On an education forum, a teacher complained that she sometimes feels embarrassed because she doesn't know what to do with students.
"Students have private talks and do private things during the lessons. But I cannot stop them. They will ignore my request. If I storm at them, their parents will make a fuss," she said.
A teacher in Tay Ho district said she has 30 students this year and she always has to struggle hard to keep the class silent. She once threatened to punish a student who had private talk during the lesson. But the student said she would not be punished because the headmaster is the friend of her grandfather.
Replying to the complaints, psychologists insist that giving scoldings is not the appropriate education method in modern times.
Kim Chi