NamNet Bridge – A university education may not be the only route to success in life, but it is a very popular one, especially among people with hearing impairment.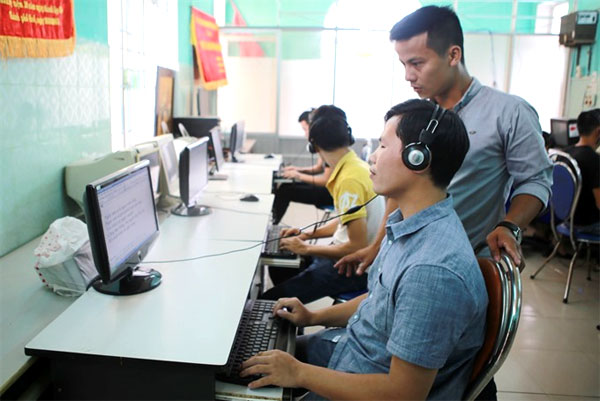 A computer training class for people with impaired hearing in Thua Thien-Hue Province. - VNA/VNS Photo Ho Cau
But in Viet Nam, it is harder for people with hearing impairments than those without to study because the learning environment is poor, ranging from a shortage of specialised high schools to teachers lacking the skills to communicate with them.
Vu Dinh Nam, who has a hearing loss of above 90 decibels – the higher the number the greater the disability – is an IT student at Nguyen Tat Thanh University Faculty in HCM City's District 4.
He said: "I wanted to go to university [to] get professional knowledge and a job to take care of my life and financially assist my parents."
His father, Vu Dinh Huynh, however, told a conference on higher education for people with hearing impairment held last week by the Centre for Research and Education of the Deaf and Hard of Hearing (CED) that his son finds it very difficult to learn.
"Because of his hearing loss of above 90 decibels, he can only hear 40-50 per cent of what teachers say in class."
To help, he took Nam to CED in Phu Nhuan District to learn lip reading.
After Nam finished secondary school at a special institution, Huynh was worried that no high school would admit him.
But he knew that continuous education centres in the city admitted people with hearing impairments and were less demanding than regular high schools.
He applied at the District 1 centre and Nam was admitted.
While studying there, whenever he did not fully understand something Nam would go to CED and ask the staff there to explain again.
His parents would learn with him at home in the evenings.
When he completed his three years at the centre, he was among the top 15 in his class and had excellent scores.
The Ministry of Education and Training stipulates that people with severe disabilities do not require to graduate high school to be admitted to university.
Nam benefited from this provision since hearing loss of above 90 decibels qualifies as a severe disability.
Nguyen Tat Thanh University accepted him based on his excellent scores at the centre.
"Studying in university is the first good step towards his future," Huynh said.
Le Chu Giang, head of the city Department of Labour, Invalids and Social Affairs' social welfare division, said Nam is one of a modest number of people with hearing impairments who have had favourable conditions to study at the university education in the city.
His department and the Department of Education and Training plan to petition the city People's Committee to create favourable conditions for the "development of people" with hearing and other disabilities.
Nguyen Tu Du, a specialist in education for disabled children, said the two departments would first do a study on the demand for higher education among people with hearing impairments.
Based on the findings, special classes for such students would be set up at high schools, she said.
According to the Department of Education and Training Currently, out of 2,735 students with disabilities studying in special schools, 868 are hearing impaired.
Another 229 study in regular schools, though only at the primary and secondary levels, it said.
No special high schools
Tran Thi Ngoi, principal of Hy Vong School for Deaf Students, said the lack of special high schools for deaf students is a major shortcoming in the city's education system.
Lam Ke Chi, principal of the continuous education centre, said: "The Government should create conditions for all disabled children, including those with hearing impairment, to aspire for higher education."
After all, many universities have faculties appropriate for them, he pointed out.
Duong Phuong Hanh, head of CED, said all schools that have students with hearing impairments should have teachers' assistants who can explain to them using sign language and lip reading.
A 28-year-old woman who recently graduated from the city Fine Arts University said it was very hard to keep up in class because she was not able to hear what her teachers said.
The country had 2.5 million deaf people in 2009, according to the General Statistics Office of Viet Nam, and the number is thought to have increased to three million now.
In 2009 around 400,000 of them were of school age and only half went to school.
Many, however, completed primary education.
VNS
Gia Loc