VietNamNet Bridge – The national foreign language project is in danger of failing to meet its targets by 2020 and drastic measures should be adopted to make it feasible, said Minister of Education and Training Phung Xuan Nha.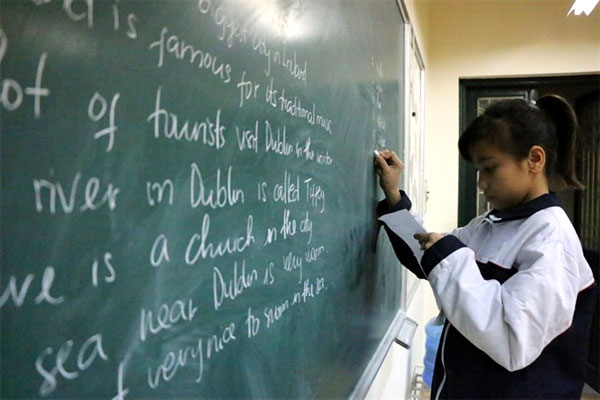 A student writes on the blackboard at her English class in Ha Noi's Ngo Thi Nham Primary School. The national foreign language project has run into several challenges, including a lack of awareness and innovative teaching methods, the Education Minister has said. — VNA/VNS Photo Doan Tung
The official made the statement while delivering a report on the project to the National Assembly last week.
He said the project faced various challenges in implementation, including a lack of awareness of the role of foreign languages and the necessity for innovative methods in teaching foreign languages.
Some of the scheme's goals were unrealistically high and inconsistent with the starting point of language skills of teachers and students, he said.
The quality and quantity of English teachers in Viet Nam is falling short of the project's requirements.
Statistics from the Ministry of Education and Training (MoET) showed that 20 per cent of third graders in Viet Nam are currently taught four periods of English a week while the project aims at 100 per cent of third graders following a ten-year English programme by 2020.
In addition, only 49 per cent of primary school English teachers have met standards set by the project.
The time frame and financial resources were also a problem, he said.
The project was set to begin in 2008, however, it was officially implemented in 2011 whereas its financial resources from the State Budget for 2008-2015 met only 70.3 per cent of required capital.
The total budget for the project in 2008-2020 was VND9.4 trillion (US$420.5 million).
However, Nha said, the allocation of capital for the project in many localities was inadequate and due attention hadn't been paid to underprivileged regions.
Some provinces and cities failed to attach importance to training teachers and focused on equipment instead.
Nha said the MoET has set forth several measures to overcome the shortcomings in project and to improve the quality of teachers of foreign languages, he said.
The ministry will promulgate a unified programme on teaching and learning foreign language across the country as a foundation for compiling textbooks, conducting assessment activities and intensify the application of information technology foreign language teaching.
The MoET will collaborate with international experts in setting up a national foreign language testing centre to ensure transparency, accuracy and consistency in foreign language testing across the country, Nha said.
A favourable environment will be created for students who volunteer to teach foreign languages and for the establishment of foreign language clubs.
The MoET will also strengthen international co-operation with organisations from native speaking countries in foreign language teaching and learning, he said, adding that exchange programmes would be implemented to increase the number of foreign teachers.
To improve the effectiveness of teaching foreign languages, particularly English, the MoET will enhance the efficiency of the use of State funds and boost social sectors' investment in foreign language teaching, he said.
Under the project "Teaching and Learning Foreign Languages in the National Education System Period 2008-2020," learning a foreign language will become a major subject for all students from the third to 12th grades.
The project is hoped to enable Vietnamese youth to be more confident in communication, enhancing their chances to study and work in an integrated and multi-cultural environment.
VNS