VietNamNet Bridge - Vietnam's PAPI (Public Administration Performance Index) had lower points for the quality of state-owned primary schools in HCM City in 2015 than the year before. The results have been interpreted differently.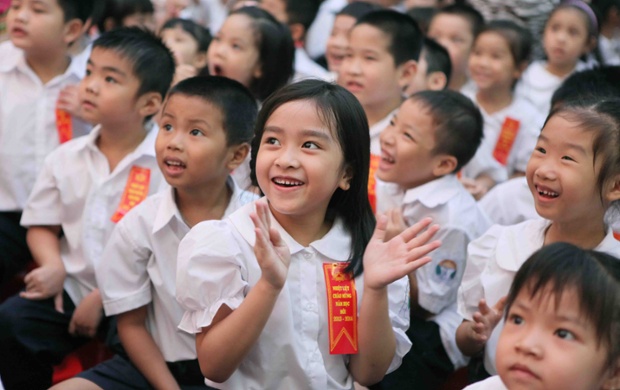 According to Do Thanh Huyen, a public policy analyst, who participates in PAPI program every year, 14 percent of those polled said primary education in HCM City was 'very good' and 85 percent said 'good'. 
However, the survey showed only small improvement in state-owned primary education in 2011-2015. The general assessment for primary education increased modestly by 0.19 after five years to 1.87 points in 2015 from 1.68 in 2011. 
While the teaching quality received 0.82 points more after five years, the gross point for primary school quality (based on nine criteria) decreased by 1.54 points. The figure was 4.09 in 2015 instead of 5.63 five years ago.
14 percent of those polled said primary education in HCM City was 'very good' and 85 percent said 'good'. 
Meanwhile, the Ministry of Education and Training (MOET) believes that primary education in HCM City is leading the nation. 
PAPI's survey also showed some that nearly 100 percent of respondents said the classes and schools in the city are in good conditions, 92 percent said schools have clean toilets, nearly 100 percent of students have clean water to drink at school and 96 percent of parents regularly receive information about their children's learning results from teachers.
However, there is a controversial issue – the additional fees that parents give to teachers as gifts. The figure was VND852,000 per student each semester in 2015, higher than VND510,000 in 2011. 
According to PAPI, questions were given to 720 individuals in HCM City during the survey, and 82 percent gave answers.
Regarding the survey on primary education, 42 percent of those polled have children or relatives in primary schools.
According to Nguyen Tien Dat, deputy director of the HCM City Education & Training Department, there are 60,000 students in HCM City, while only 1.2 percent of parents were surveyed. 
Dat also raised question about the VND852,000 that PAPI called the 'additional fee', asking to clarify how the surveyors got the figure.
In reply, Huyen, citing scientific arguments, said that the reliability of the survey could be up to 95 percent. 
She said if HCM City assigned its agencies to conduct the survey using the same survey tools of PAPI, it would also receive the same result.
Le Na