VietNamNet Bridge – Parents of primary school children have already bought bilingual textbooks to for the next school year but an Education and Training Ministry official announced that the quality of the books has not been assessed and approved.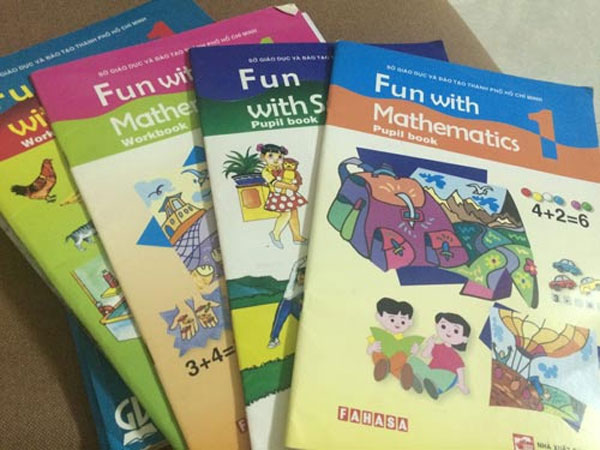 Illustrative image -- File photo
In preparation for the next school year, the Viet Nam Education Publishing House has published textbooks in Math, Science, Chemistry and Biology, in both Vietnamese and English, for students from the 2nd to 12th grades. The textbooks were sold to students and their families.
Deputy Editor-in-Chief of the publishing house Nguyen Van Tung said that the bilingual books were designed to implement the ministry's policy on promoting foreign language study.
However, the head of the ministry's National Project on Foreign Languages, Nguyen Sy Thu, told the online newspaper vietnamnet.vn early this month that while the Vietnamese content has been approved and used for years, the English has not been.
Thu said that to start using the bilingual books, schools must prepare by ensuring the English language proficiency of both teachers and students and the support of the parents.
Teaching in two languages was helpful for students to improve kills of listening, speaking, reading and writing, he said, "but the newly-published bilingual textbooks and their quality have not been verified."  
Dang Kim Dung, a mother of a soon-to-be third grader in Ha Noi said that at a meeting before the end of this school year, her kid's teacher informed that as of next year, the class would use bilingual textbooks for Maths and Sciences.
"We are surprised and worried about how the teacher will teach and my kid will learn with new textbooks," she said.
Currently, Vietnamese public primary schools have one teacher in charge of basic subjects, including maths, Vietnamese and sciences, while subjects like English, art or music are taught by other teachers.
"It's difficult for a teacher to manage both basic subjects and English," she said, noting that there were about 50 students in her kid's class and that the teachers work hard with them.
Nguyen Thu Ha, a primary school teacher in Ha Noi, said that although her school did not use the bilingual textbooks yet, she did not agree with the new policy.
"I'm not confident in my English. I'm afraid I would fail to teach my students math with the little English I have," she said.
"I guess few English-language teachers could teach math or science as they lack the relevant skills," she said.
Ha noted that if the English translation was placed under the original Vietnamese sentences, students could ignore the translation.
"It's wasteful if the content in English is added but students and teachers don't use it," she said.
Early this year, the online newspaper Phu nu Viet Nam ("Vietnamese Women") reported that in the 2015-16 school year, students in third, fourth and fifth grade in central Binh Thuan Province used bilingual textbooks but few teachers were qualified to teach the books.
Parents complained the bilingual books were four times more expensive than the monolingual ones.
Moreover, the difference between Vietnamese style and English style was confusing to primary school students. For example, Vietnamese use the comma to separate the integer part from the fractional part of a number written in decimal form, while English use the full stop.
At a workshop held by the Viet Nam Education Publishing House last November in HCM City, experts also said that a shortage of qualified teachers at high schools nationwide is the major obstacle preventing the implementation of a pilot bilingual programme on teaching maths and natural sciences in English and Vietnamese.
Dung, the mother, said she was most concerned about teachers' proficiency in English once the bilingual books are used.
Teachers should be trained to teach with such books before they teach our kids, she said.
VNS